Press release
Norfolk bus trial to inform government's smart ticketing strategy
£2.5 million pilot funding for paperless transport system in Norfolk.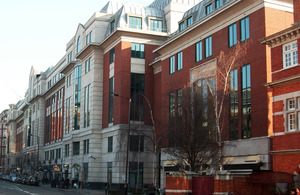 Norfolk's buses will be at the forefront of government ambitions for a paperless transport system, with a £2.5 million pilot of smart card technology, Transport Minister Norman Baker announced today (27 February 2012).
The scheme, which will be funded from the government's £15 million commitment to ensure all buses in England are smart enabled, will allow the county's entire bus fleet to be fitted with smart technology.
The pilot will last for 3 years but will be evaluated throughout so that the benefits can be understood and used nationally before the end of the trial.
Over 40 bus operators in the county will take part in the trial which will increase the number of smart enabled vehicles to over 700 and will see the introduction of a number of new types of tickets – such as Norfolk Area E-Purse, Norfolk Dayrider and Youth (16-19) Discount Product.
Transport Minister, Norman Baker said:
Smart ticketing is the passport to more efficient, seamless journeys for passengers.

I want smart cards being rolled out not just on buses but on all modes of public transport in England as quickly as possible and this important piece of work will make that ambition one step closer to becoming a reality.
Norfolk has been selected for the pilot because it provides a good mix of rural and urban passenger and bus operator markets, which will enable the government to test different scenarios and understand what best works for passengers.
Graham Plant, Norfolk County Council's Cabinet Member for Planning and Transportation, said:
I am delighted that the government has agreed to fund this demonstration pilot, and that Norfolk residents will be the first to benefit from the convenience and flexibility of smart cards. We have worked hard to show that Norfolk is the right place to trial smart card technology in a rural area. Under the trial we will be aiming to show that, with the right conditions in place, smart and integrated ticketing is achievable and delivers great benefits to everyone.
Notes to editors
Managed Service schemes cover the provision of smart ticketing equipment, its installation and maintenance plus supporting back office services. Funding of £15 million was set aside to support the national Managed Service initiative in March 2012.
Norfolk County Council is providing its own resources, local knowledge and some funding towards the development and introduction of smart ticket products.
Press enquiries: 020 7944 3118
Out of hours: 020 7944 4292
Public enquiries: 0300 330 3000
Published 27 February 2013