Nineteen areas move out of drought
Recent record-breaking rainfall has altered the situation.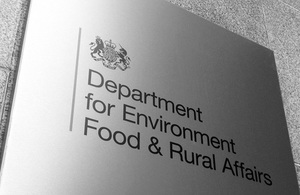 Environment Secretary Caroline Spelman has today welcomed the Environment Agency's decision to move 19 counties out of official drought status. It follows an analysis by the Environment Agency of all areas designated as being in drought to see whether the recent record-breaking rainfall had altered the situation. This analysis was undertaken following a request by Mrs Spelman last week.
The lifting of drought status means that an area of England from the West Midlands to Cornwall will no longer face the likelihood of water companies placing temporary restrictions on domestic water-use this year.
The 19 areas no longer in drought are South Yorkshire, East Yorkshire, Cornwall, Devon, Dorset, Somerset, Bristol, Parts of Gloucestershire, Parts of Hampshire, most of Wiltshire, Nottinghamshire, Leicestershire, Derbyshire, Staffordshire, West Midlands, Warwickshire, Shropshire, Worcestershire and Herefordshire.
The lifting of the drought makes it clear that there is no threat to the public water supply in these areas this summer. However, they are still subject to some environmental pressures and could move back in to drought if there is another prolonged dry period. Defra is working closely with the Environment Agency to continuously monitor and review the drought situation.
Those areas of the UK which are served by Anglian Water, South East Water, Southern Water, Sutton and East Surrey Water, Thames Water, Veolia Water Southeast and Veolia Water Central remain in drought and are subject to temporary restrictions such as hosepipe bans.
Environment Secretary Caroline Spelman said:
"If an area is no longer in drought, the public shouldn't have the possibility of hosepipe bans or other temporary restrictions hanging over their heads, which is why Defra and the Environment Agency have been continuously monitoring and reviewing the drought situation.
"But we cannot forget that Anglia, London and the South East are still in drought and still experiencing water restrictions. That's because even the record rainfall we had in April and the prediction of more wet weather in May won't make up for the water shortages in these areas caused by two extremely dry winters."
The Environment Agency will continue to monitor the drought situation closely. Groundwater levels in many areas remain lower than would normally be seen at this time of year. To bring the drought to an end in all areas of the UK before the winter we would need several months of very wet weather.
Further information
Published 11 May 2012