News story
Nine UK companies get set for Space Mission to the United States
Innovate UK and UKTI set up opportunities for Britain's brightest space technology businesses to learn from global players in California.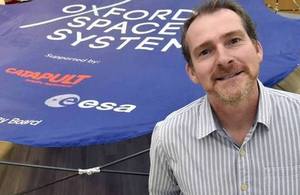 Nine of the most exciting British space companies are off to the United States on a trade mission organised by Innovate UK and UK Trade & Investment (UKTI).
They range from a startup that brings fresh, high-quality earth observation to the consumer market – think real-time 'selfies' from space – to a Scottish company making miniature satellites for the mass market.
Space Mission 2015 - Lift off!
Another offers off-the-shelf satellite software that can be customised for individual missions while a Southampton company is at the cutting edge of space electric propulsion.
Jo Johnson, Minister for Universities and Science said:
The space sector is one of Britain's great success stories. This mission will help the brightest and best of British firms showcase their innovate products and expand into new markets, creating new jobs for Britain and boosting productivity.
8-14 August
The Space Mission 2015 (8-14 August) first takes in the Small Satellite Conference in Utah, hosted by NASA's Jet Propulsion Laboratory.
The companies then move on to California to meet teams from NASA, Virgin Galactic and Lockheed Martin along with other industry-leading organisations and investors.
9 companies
The 9 that went through a competitive funding process to join the mission are:
Low cost, low mass deployable boom systems
PocketQube Shop – a one-stop-shop for custom-built satellites costing less than a family car
introduction video to www.pocketqubeshop.com
Cost is often a major factor in determining the viability of space projects. All 9 companies have developed novel business models and approaches to achieve dramatic reductions in the cost of space technology, research and analysis.
Their visit is designed to increase collaboration between the US and the UK in the space sector. Both countries have longstanding connections through space, but US private sector involvement has expanded much more rapidly than the UK's over the last 20 years.
This mission gives UK companies an excellent opportunity to build connections with US industry leaders and to learn from their experiences.
Tim Just, Head of Space at Innovate UK, said:
The Space Mission 2015 demonstrates the UK Government's commitment to supporting and growing the British space industry. All of these burgeoning firms are at the forefront of the new space race and have genuinely built innovative solutions to some of the sector's greatest challenges.
We are proud to support these companies as they lay the foundation for future British economic growth.
Innovate UK and UKTI have identified the space sector as a high-growth potential market. Their space industry specialists will be on hand during the mission to assist the companies and ensure they maximise their opportunities.