Nicky Morgan and David Walliams launch child literacy campaign
Shared ambition for hundreds of new book clubs across the country and a library card for every 8-year-old.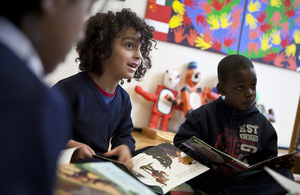 Nicky Morgan has teamed up with children's author and comedian David Walliams to help make English students the most literate in Europe.
Launching a literacy campaign today (19 August 2015), the Education Secretary and David Walliams said that improving literacy should be a 'national mission.'
Alongside existing reforms that have helped tens of thousands more pupils to read confidently, Nicky Morgan announced plans to create at least 200 new book clubs across the country and an ambition to see every 8-year-old enrolled at their local library.
The new campaign is part of the government's 'one nation' approach to extend opportunities to every child, regardless of background.
Education Secretary Nicky Morgan said:
No matter where they live or what their background, every single child in this country deserves the opportunity to read, to read widely, and to read well - it's a simple matter of social justice.

Our reforms have already helped tens of thousands more pupils to leave primary school as confident readers but we must go further.

That's why I am pleased to team up with David on this national mission to make our young people the most literate in Europe.
David Walliams said:
Books fire children's imaginations like nothing else can.

In a world of the constant distractions of television and computer games, it is more important than ever to encourage youngsters to read.
People with strong reading skills are overwhelmingly more likely to succeed at school, achieve good qualifications, and find a rewarding and enjoyable career - even more likely to enjoy good health.
Compared to 5 years ago, almost 34,000 more young people are leaving primary school able to read properly; but 1 in 5 still leave unable to read well enough to do well at secondary school - a figure that rises to 1 in 3 among the most disadvantaged children.
One way of encouraging children to read is to set up book clubs where they can discover new stories and share their favourites with their friends.
The government is therefore funding The Reading Agency to extend their popular Chatterbooks scheme and set up new book clubs in 200 more primary schools all over the country.
Alongside this, the government will also support The Reading Agency to work with schools and get more year-3 pupils enrolled at their local library - helping more children get into the library habit early and address findings that show that 1 in 7 children aged 8 to 16 rarely or never read outside of school.
Lynne Taylor, Chatterbooks Programme Manager at The Reading Agency, said:
Having a Chatterbooks reading group in a school creates a real buzz about reading. The groups are designed to make reading fun, something children want to do with their friends, and they read more books as a result.

The Reading Agency is delighted to be able to support more primary schools to set up new reading groups, and encourage library membership, in partnership with schools' library services and public libraries.
Notes to editors
In 2012, the government introduced a phonics screening check to make sure all primary school pupils can decode simple words and to identify any who need extra help with learning to read. Three years on, the proportion of pupils reaching the expected standard has increased from 58% in 2012 to 74% in 2014 - equivalent to more than 100,000 more 6-year-olds on track to become strong readers.

The proportion of children reading properly by the end of primary school has improved from 83% to 89% since 2010 - 33,600 more children in total.
DfE enquiries
Central newsdesk - for journalists 020 7783 8300
General enquiries - for members of the public 0370 000 2288
Published 19 August 2015