Nick Gibb congratulates students on their A level results
The schools minister praises students and teachers for their hard work.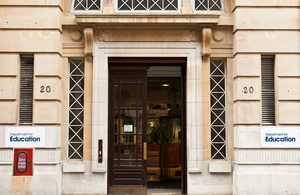 Schools Minister Nick Gibb has today congratulated students on their well-deserved A level results.
Schools Minister Nick Gibb said:
I am delighted that so many young people have secured good A level results today. It is always a pleasure to be able to celebrate academic excellence, to highlight the successes of public servants and to underline how impressive so many of today's young people really are. That's why I am so encouraged that the number of students pursuing rigorous subjects such as maths and physics continues to rise.
It's also why I'm delighted to be able to thank all those great heads and inspirational teachers who have helped students succeed. And I am particularly pleased to be able to congratulate tens of thousands of young people who have displayed the right values, worked incredibly hard and who richly deserve their success.
DfE enquiries
Central newsdesk - for journalists 020 7783 8300
General enquiries - for members of the public 0370 000 2288
Website: www.education.gov.uk/help/contactus
Published 16 August 2012