Nick Gibb congratulates GCSE students
Congratulations from Nick Gibb to the GCSE students collecting their exam results today.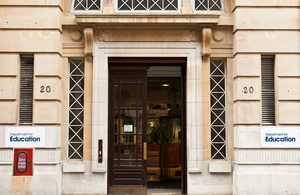 Schools Minister Nick Gibb has welcomed today's GCSE results.
Schools Minister Nick Gibb said:
Today we can congratulate thousands of young people as they collect their GCSE results and celebrate the culmination of five years of secondary education. No one should underestimate the hard work and application needed to gain GCSE qualifications.
But we have to make sure we prepare young people for the future, whether they are going onto further education, training or into the workplace. Our task in government is to ensure our qualifications are on a par with the best in the world. We need to build an education system that ensures every child gets the opportunity to succeed.
While it is encouraging to see the rising uptake in maths and single sciences, it is worrying that once again there are falling numbers studying languages. Through the English Baccalaureate, we want to make sure all pupils have the chance to study the core academic subjects which universities and employers demand.
Notes to editors
All GCSE results for England, Wales and Northern Ireland can be viewed at the Joint Council for Qualifications website.

The Exams Results Helpline, funded by the Department for Education, provides free, on-the-spot information and advice to GCSE and A level students who do not receive the results they expect. Call 0808 100 8000 from 18th to 28th August.
DfE enquiries
Central newsdesk - for journalists 020 7783 8300
General enquiries - for members of the public 0370 000 2288
Website: www.education.gov.uk/help/contactus
Published 25 August 2011