News story
Nick Clegg joins the Dementia Friends
Deputy Prime Minister Nick Clegg today follows in the footsteps of over 10,000 people across England by becoming a Dementia Friend.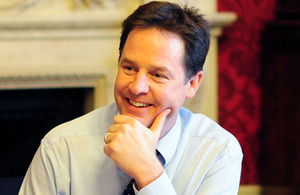 Alzheimer's Society is aiming to have 1 million Dementia Friends by 2015, to help make England more dementia-friendly and improve the lives of the 800,000 people currently living with the condition. In less than 10 years 1 million people will be living with dementia.
Read about diagnosing dementia and support available on NHS Choices.
The Deputy Prime Minister said:
Alzheimer's Society's Dementia Friends initiative gives everyone the opportunity to understand a condition that affects so many families up and down the country, and do their bit to help improve their lives. Today I've become a Dementia Friend, and I'd like to encourage everyone across England to do the same.

Dementia is not a natural part of ageing, it is a condition caused by diseases of the brain. What we need to remember is that there is more to the person than the condition they are living with. With support and understanding from the public, people with dementia can live well. We need to raise awareness of dementia, and build genuinely dementia friendly communities.
Join the Dementia Friends
The aim is to give 1 million people a better understanding of dementia by 2015. Sign up to for information sessions on the Dementia Friends website.
Dementia Friends is an Alzheimer's Society initiative funded by the Department of Health and the Cabinet Office. It is part of the government's Challenge on Dementia which includes initiatives to boost early diagnosis, to make wards and care homes more comfortable for people with dementia and help the public to better understand the condition.
Dementia Friends Champions needed
As well as encouraging people to sign up as Dementia Friends, Alzheimer's Society is also calling on people to volunteer to be a Dementia Friends Champion.
These are volunteers who talk to people about being a Dementia Friend in their communities. They will attend a training course, receive ongoing support and be part of a growing network of people creating dementia friendly communities together.
To sign up and find your nearest session, visit the Dementia Friends website.
Published 31 July 2013