Press release
NHS's 65th birthday celebrated with national offer of life-saving screening
Public health leaders today celebrated the 65th birthday of the NHS by announcing that a life-saving screening programme is available throughout England.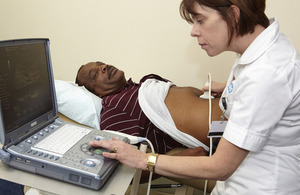 Public health leaders today (5 July 2013) helped celebrate the 65th birthday of the National Health Service by announcing that a life-saving NHS screening programme is now available to all 65-year-old men in England.
The NHS Abdominal Aortic Aneurysm (AAA) Screening Programme invites all men in England for screening during the year they turn 65 while men over 65 can arrange an appointment by contacting their local service.
Dr Anne Mackie, Director of the UK National Screening Committee (UK NSC) which sets screening policy throughout the UK, said:
I am delighted to announce today the completion of the national roll-out of the NHS AAA Screening Programme in England.

It is particularly fitting, on the 65th anniversary of the launch of the National Health Service, to be able to say that all 65-year-old men can now benefit from the latest evidence-based NHS screening service.
The NHS AAA Screening Programme and the UK NSC are part of Public Health England (PHE), the expert national body that aims to protect and improve the nation's health.
Professor Kevin Fenton, PHE's Director of Health and Wellbeing, said:
One of Public Health England's key priorities is to reduce preventable deaths – and that's exactly what aneurysm screening does.

By spotting aneurysms early, so they can be monitored and treated if necessary, AAA screening should eventually prevent around 2,000 premature deaths per year, ensuring longer, healthier lives for many older men.
Abdominal aortic aneurysms, also known as AAAs or 'triple As', are formed when the major blood vessel in the body weakens and expands. Large AAAs can be very dangerous because they can rupture (burst) – a medical emergency that is usually fatal. Men are six times more likely than women to develop the condition and around 5,000 people – mostly men aged 65 and over – die every year from ruptured AAA. The screening programme should eventually prevent up to half of these deaths through early detection, appropriate monitoring and treatment – usually surgery.
All men in England whose 65th birthday falls on or after 1 April 2013 will automatically be invited for screening while older men who have not previously been screened can arrange an appointment by contacting their local screening service. View AAA screening service contact details
Vascular surgeon and NHS AAA Screening Programme Clinical Lead Jonothan Earnshaw said:
Aneurysms usually have no symptoms, which is why screening is so important. The screening test is a simple non-invasive ultrasound scan, similar to that offered to women during pregnancy, it usually takes less than 10 minutes and men receive their result straight away. I would urge all men in their late 60s and early 70s to consider seriously the offer of screening, particularly if they are in a high risk group.
Men are more at risk of AAA if they:
smoke or have ever smoked
have high blood pressure
have high cholesterol
have a close relative (parent or sibling) who has or has had an AAA
AAA screening has also been implemented throughout Northern Ireland and most of Scotland. By the end of 2013, AAA screening will be offered to 65-year-old men everywhere in the UK.
Notes to Editors
For more information, please contact

Mike Harris
NHS Adult Screening Programmes Communication Manager
Tel: 0782 440 8031


Email: mike.harris@nhs.net
Published 5 July 2013