Press release
Next steps for Lower Thames Crossing announced
Decision announced to undertake detailed planning for 2 possible Lower Thames Crossing location options.
The government will undertake detailed planning in 2 possible locations for a new crossing of the lower Thames to the east of London, Transport Secretary Patrick McLoughlin has announced.
The decision comes as the Department for Transport publishes its response to the public consultation on location options for a new Lower Thames Crossing, which generated more than 5,700 responses.
In December the government announced that it would discard 1 of 3 locations in the consultation and work on the remaining alternatives; 'option A', close to the existing crossing, and 'option C', connecting the A2 and M2 to the M25 via the A13.
The decision has now been taken to develop and appraise route options in detail at each location before choosing the site of the new crossing. This will not delay the delivery of a future scheme, but will allow the Highways Agency to assess the effect of the new remote payment system, called 'Dart Charge', which will improve driving conditions at the existing Dartford-Thurrock crossing after it is introduced from October.
Even with the introduction of Dart Charge, it is still expected that by the middle of the next decade traffic levels will be greater than the capacity of the existing crossing and the surrounding road networks will be congested – confirming the need for a new crossing.
Transport Secretary Patrick McLoughlin said:
As part of the M25 orbital route around London, the Dartford Crossing is a crucial part of the country's strategic road network.

We are committed to a new Lower Thames Crossing, but whichever location is chosen, it will have a big impact on people in the area and we must make the right decision.

This work will not delay the delivery of the crossing but allows us to choose the best option for local people and the region's economy, so that it helps boost transport links and economic growth.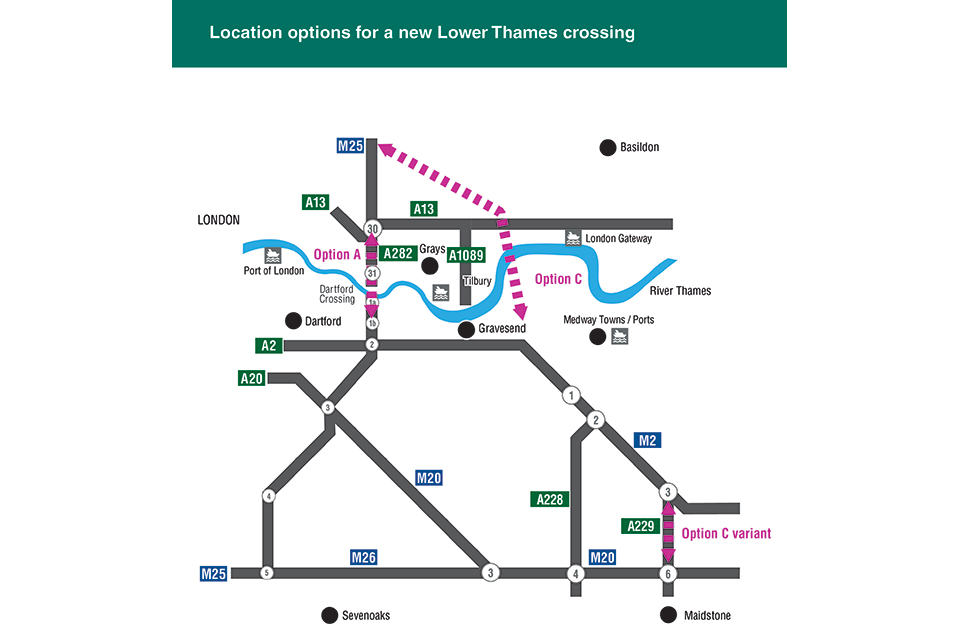 The work will show the range of possible routes at either location and identify their economic, environmental and social impacts, as well as costs.
There are ambitious plans for new homes and jobs across Essex, Kent, Medway, Southend and Thurrock which a new crossing will support by providing vital links for businesses and citizens within the area, with the rest of the country and further afield to Europe.
Roads media enquiries
Press enquiries 020 7944 3021
Out of hours 020 7944 4292
Switchboard 0300 330 3000
Related Lower Thames Crossing documents
Published 15 July 2014