Press release
New Year ambitions to reduce healthcare associated infections
New ambitions have been set for the NHS which build on the progress made on infections last year, Health Minister Simon Burns announced today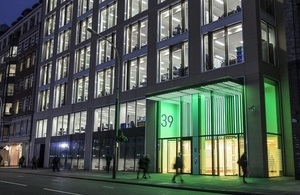 MRSA **bloodstream infections under 100 for six months running**
New ambitions have been set for the NHS which build on the progress made on infections last year, Health Minister Simon Burns announced today.
If delivered, there would be a further 29% reduction in MRSA bloodstream infections and a further 18% reduction in Clostridium difficile infections by April 2013 - bringing annual numbers of MRSA bloodstream infections down to 880 and reducing Clostridium difficile infections from 19,754 to 16,100.
The latest monthly statistics show that, for the first time since mandatory surveillance began in 2001, MRSA bloodstream infections across the NHS have been sustained at under 100 reported cases per month for the last six months.
MRSA numbers are continuing to decrease, with 86 bloodstream infections reported across the NHS in November 2011. On average there is now less than one MRSA infection per primary care trust (PCT) each month. 
35 NHS organisations had been free from MRSA bloodstream infections for 12 months in November 2011 according to Health Protection Agency (HPA) data.  This is more than double the 14 organisations who achieved this in May 2010 and just 4 trusts were free from MRSA in September 2006.
Health Minister Simon Burns said:
"There has been great progress in reducing MRSA bloodstream and Clostridium difficile infections in some parts of the NHS, but we want everyone at the level of the best.
"This progress shows the impact that our drive for greater transparency and strict infection control measures can have to prevent avoidable infections and help provide a clean and safe environment for patients. But there is still more to do to before we have achieved our objective of zero tolerance for all avoidable healthcare associated infections and it is vital that we continue to reduce variation across the country.
"That is why we have set each Trust their own objective - to drive further improvements, particularly in the organisations with the highest rates of MRSA bloodstream and C. difficile infections."
This contributes to the Prime Minister's commitment last week to focus on improving quality in the health service and ensure that every patient is cared for with compassion and dignity in a clean environment.
Notes to editors
The healthcare associated infection statistics between November 2010 and November 2011 can be found on the HPA website.   The attached graph shows the improvement in the number of trusts with no MRSA cases for 12 months since September 2006.
The NHS Operating Framework 2012-13 (published 24 November 2011) prioritises the achievement of the MRSA and C. difficile objectives. The NHS is being asked to collectively reduce the numbers of infections in 2012-13 by a further 29% for MRSA bloodstream infections and 18% for C. difficile _infections. In addition an individual objective based on current performance has been set for each Trust. The _NHS Operating Framework and the Technical Guidance for the Operating Framework 2012-13 can be found on the Department of Health website.

The baseline period used to set the updated MRSA and C. difficile objectives is October 2010 to September 2011.

From June 2010, patients have been able to access weekly information on MRSA bloodstream and C. difficile infections on data.gov.uk.  In addition, monthly MRSA, meticillin-sensitive Staphylococcus aureus (MSSA), E. coli bloodstream infections and C. difficile infections data is published on the HPA website. Publishing this information allows patients to hold hospitals to account about the management of healthcare associated infections.

Last year, we built on our commitment to greater transparency of information by extending mandatory surveillance to include MSSA (from January 2011) and E. coli bloodstream infections (from June 2011).

For media queries, please contact the Department of Health Newsdesk on 0207 210 5221.
Published 13 January 2012