Press release
New Whitehall central buying service to save more for taxpayers
New Crown Commercial Service will maximise government buying power, raise commercial capability across public sector and deliver savings.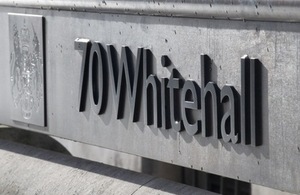 The creation of a new commercial service to strengthen the government's business-like approach to how it buys goods and services will maximise public sector buying power and generate more savings, Minister for the Cabinet Office Francis Maude announced today.
Fulfilling a commitment set out in the Civil Service Reform Plan to radically transform how Whitehall operates, the Crown Commercial Service will bring together the government's central commercial capability into a single organisation. It will work with departments and wider public sector organisations to ensure maximum value for the taxpayer is extracted from every commercial relationship.
The new integrated commercial service will be established in autumn 2013, building on the evolution of Government Procurement Service over the last few years. It will deliver savings by ensuring that government acts as a true single customer. Specifically, the Crown Commercial Service will:
centrally manage the purchase of common goods and services such as professional services and energy
introduce a new Complex Transactions Team to work with departments on complex procurements, reducing the need for external advice
enable departments to focus their commercial efforts on their own strategic requirements
further strengthen the commercial leadership within government
further strengthen the procurement profession and improve overall commercial ability across the Civil Service
continue to work closely with the wider public sector to ensure that the benefits of aggregation and centralisation are shared across the public sector to maximise savings for the taxpayer
Francis Maude, Minister for the Cabinet Office said:
This government's commercial reforms have already saved the taxpayer £3.8 billion. But hard-working families expect us to go further. The new Crown Commercial Service will ensure a step change in our commercial capability, giving government a much tighter grip on all aspects of its commercial performance, from market engagement through to contract management.

Commercial reforms are a key element of our Civil Service Reform programme. To win the global race, Britain needs an exceptional civil service with strong commercial acumen. We need the best, most cost-effective public services in the world.
Bill Crothers, the Government Chief Procurement Officer, said:
Government should be an excellent customer. We spend around £45 billion on buying goods and services, and need to make the most of this extraordinary buying power.

The Crown Commercial Service will ensure we act as a true single customer: buying the essentials for the whole of government in the most efficient way possible, whilst freeing up departments to focus their procurement expertise on what is unique to them. The result will be more savings, an increase in the quality of the commercial service to government, and a sustainable approach to our commercial and procurement activity which will benefit the whole of the public sector.
Notes to editors
The Crown Commercial Service will bring together the Government Procurement Service and other Cabinet Office teams.
Published 24 July 2013