Press release
New vice-chair appointed to Commission on Human Medicines
Dr Angela Thomas replaces Professor Ian Weller who retired from the position and from CHM on 31 December 2014.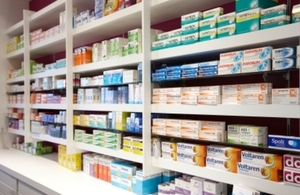 The CHM advises on matters relating to safety, quality and the efficacy of medicines as well as the collection of adverse drug reactions.
Dr Angela Thomas is a consultant paediatric haematologist at the Royal Hospital for Sick Children in Edinburgh, a fellow of the Royal College of Physicians in Edinburgh, a former President of the British Society for Haematology and has been on the CHM since 2005, where she chairs the Clinical Trials, Biologicals & Vaccines Expert Advisory Group.
She has also served as a member and chaired many scientific and medical committees in the UK and Europe.
Dr Angela Thomas said:
I am delighted to be taking up this new role. The Commission plays a vital role in the licensing of new medicines and in monitoring drug safety.

I have found my time as a member of CHM tremendously rewarding and am looking forward to the challenges offered in my new role as vice-chair.
Background
MHRA is responsible for regulating all medicines and medical devices in the UK by ensuring they work and are as safe as is reasonably possible. Underpinning all our work lies strong and evidence-based judgements to ensure that the benefits justify any risks. MHRA is a centre of the Medicines and Healthcare Products Regulatory Agency which also includes the National Institute for Biological Standards and Control (NIBSC) and the Clinical Practice Research
Media enquiries
News centre
MHRA
151 Buckingham Palace Road
Victoria
London
SW1W 9SZ
Email newscentre@mhra.gov.uk
During office hours: 020 3080 7651 (08:30 - 17:00)
Out of office hours: 07770 446 189 (17:00 - 08:30)
Office hours are Monday to Friday, 8:30am to 5pm. For real-time updates including the latest press releases and news statements, see our Twitter channel at https://www.twitter.com/mhrapress
Published 19 January 2015