News story
New UK Ebola centres and labs in Sierra Leone
Five more Ebola treatment centres have been completed and handed over to the charities who will run them.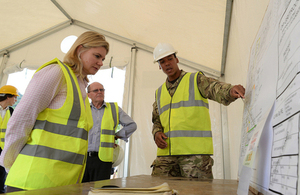 Britain's Royal Engineers have now completed final building works on a further 5 Ebola treatment centres and handed them over to the charities that will run them, International Development Secretary Justine Greening has announced at the start of a 2 day visit to Sierra Leone.
Her announcement came during a visit to mark the opening of the Port Loko treatment centre, run by the NGO GOAL, which will work alongside a recently opened lab run by Public Health England to treat and diagnose patients in one of the worst affected districts.
In addition to Port Loko, another one of the UK's treatment centres in Goderich, run by the NGO Emergency, has opened its doors to patients. The remaining sites at Moyamba, Makeni and Hastings are due to open in the coming week.
Treatment beds are an important weapon in the fight against Ebola, but Ms Greening made clear they represent just one part of the UK's armoury.
The 882 treatment and isolation beds supported by Britain are operating alongside burial teams who are burying bodies safely within 24 hours, lab technicians testing hundreds of swabs for Ebola each day, and community care centres providing swift diagnosis and isolation throughout the country.
On top of this, the UK has recruited, trained and deployed 2,000 community mobilisers, worked with more than 600 religious leaders, and with 40 local radio stations to explain how to reduce the risk of infection and support the reintegration of Ebola survivors into their families and communities.
With all these elements in place and operational – from treatment beds, to effective burials, to education and information for Sierra Leoneans throughout the country – we are already seeing important results. These include:
a reduction in the transmission rate from 1.6 in July to 1.2 in October
100% of bodies being buried within 24 hours in the Western Area, where a third of the population live
250 samples being tested every day across the 7 labs in Sierra Leone, including 3 UK-funded labs, ensuring speedy diagnosis.
Justine Greening said:
Our fight against Ebola in Sierra Leone has been comprehensive and unrelenting. The UK has supported many hundreds of treatment beds, trained thousands of healthcare workers, boosted the strength of burial teams, and opened 3 new labs to test samples.

We will not take our foot off the gas now. This is a crucial moment and we will be here for Sierra Leone until the job is done. I thank the Britons who are part of this fight for their courage and determination. And to the international community my message is clear: we need you all to play a part in fighting this disease in West Africa.
The 5 additional treatment centres are located at:
Port Loko: run by GOAL, an NGO
Hastings, Freetown: run by Aspen Medical on behalf of the Australian Government
Makeni: run by International Medical Corps, an NGO
Goderich, Freetown: run by Emergency, an NGO
Moyamba: run by Doctors of the World and Solidarite International, both NGOs.
Built from scratch by Royal Engineers and local contractors, they will each provide 100 Ebola treatment beds once they are fully operational. Each treatment centre will be scaled up as quickly and safely as possible over the coming months. The centres will be staffed by a mix of local, international and NHS volunteer health professionals. Overall the UK is currently supporting 882 treatment and safe isolation beds in Sierra Leone. This includes those in the British built treatment centres, beds in the community care centres and treatment beds the UK is supporting in other treatment centres across the country.
The first British built treatment centre, based at Kerry Town, is fast approaching full capability with 62 beds now operational, including 12 for national and international healthcare workers.
Alongside the new treatment centre at Port Loko, Britain has also built another brand new lab which opened on 6 December increasing capacity to turnaround samples in this particular hotspot. A third lab based at the Makeni Ebola Treatment Centre opened on 8 December.
Published 15 December 2014