Press release
New UK and UAE partnership for Syrian refugee camp
A new joint UK-UAE programme will make sure Syrian refugee children can access basic education.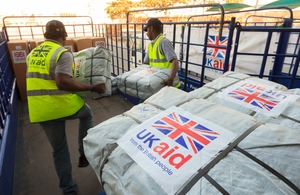 The UK and the United Arab Emirates (UAE) will work together to make sure Syrian refugee children don't miss out on a basic education as a result of the continuing conflict, International Development Minister Alan Duncan announced today as he set out details of a new £1.78 million programme.
The partnership will help thousands of young people who have been caught up in the violence in Syria to continue their schooling – despite being forced to flee to neighbouring Jordan to escape the fighting in their own country.
The UAE has set up and is jointly running the Emirates-Jordanian Camp (EJC) for Syrian refugees, also known as Mrejib Al Fhood (MAF), near Zarqa in Jordan. The camp currently accommodates around 3,000 refugees, with more expected in coming months.
Alan Duncan said:
Week after week, we have seen the number of refugees fleeing Syria continue to grow. Inevitably, it is children who suffer most - not only in the short term as they are forced to leave behind homes, friends and family, but also in the impact it has on their education. That not only limits their individual chances of finding work and building a better future for themselves, it also has long term implications for the generation that will be expected to rebuild their country once the conflict ends.
I'm delighted that we're in a position to work with the UAE on this vital programme. Following the establishment of the UAE's development ministry, this is a very apt initiative. Not only is it an investment in the future of Syrian children who find themselves victims of a conflict not of their making, it is also an investment in the future of Syria as a whole.
HE Sheikha Lubna bint Khalid Al Qasimi, Minister of International Cooperation and Development in the United Arab Emirates said:
When I recently visited the Mrejib Al Fhood UAE-Jordanian camp that was set up by the UAE in Jordan to help accommodate the Syrian refugees fleeing the unrest in their country, as much as I was saddened by the refugees' predicament, I saw a great degree of hope and enthusiasm in the smiles of the camp's children who were appreciative of the care that they were receiving by the remarkable team of UAE, Jordanian and international aid workers who are providing health and educational services to them.
I am pleased to see that the UAE and UK are collaborating to further alleviate the suffering of the Syrian refugees and ensure that the UAE-Jordanian camp for Syrian refugees, in cooperation with the UNICEF, continues to tend to its young population's educational needs through the employment of the best international practices
The new UK funding will support the UN's children agency UNICEF in providing 6,250 school-aged youngsters with access to education in the camp school, as well as helping to recruit and train teachers. Key results include:
Provide essential school kits and supplies to 6,250 Syrian refugee children in the Emirates–Jordanian Camp (EJC), including blackboards, chalk, schoolbags, desks and chairs;
Help the Jordanian Ministry of Education (MoE) recruit 209 Jordanian teachers and 36 admin staff to work in the camp;
Provide buses to transport teachers to and from EJC on a daily basis so that the teachers can reach the camp to provide education for their students;
Support for an outreach "Back to School" campaign in the camp to increase enrolment;
Provide catch-up and informal education to 1,000 vulnerable children and adolescents;
Support MoE in establishing and managing an information management system to monitor progress on education activities.
Notes to editors
In March 2013, a new UAE Ministry for International Cooperation and Development was established.
The UK and the UAE already have an agreement in place to work together on tackling development issues and today's announcement follows meetings between Alan Duncan and Her Excellency Sheikha Lubna Al Qasimi, UAE's new Minister for International Co-operation and Development.
Published 13 June 2013