Press release
New technology to cut road works red tape
New technology to help councils and utility companies manage road works.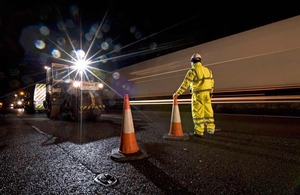 New technology is being brought in to make it easier for local councils and utility companies in England and Wales to manage road works, Local Transport Minister Norman Baker announced today (9 April 2013).
The electronic changes that come into force on 1 October will modernise the way road works are co-ordinated and administered, making it easier and quicker for councils and utility companies to share information. The new technology will mean that more information on the timing and co-ordination of road works can be stored on one computer system.
Local Transport Minister Norman Baker said:
Nobody likes having their journey disrupted by road works. By cutting red tape and making it easier for councils and utility companies to work together, road work can be carried out more efficiently, with considerable savings made to the public purse. This will free up time and resources that could be better spent delivering other services that will benefit road users in the future.

It is estimated that about two thousand hours could be saved by councils and utility companies every week by using the new system, saving industry alone £600,000 a year. In total, the street works sector is expected to net savings of £14.3 million over the next 10 years, driving efficiencies and saving taxpayers' money.
All councils and utility companies will be legally bound to use the new system - known as the electronic transfer of notices (or ETON) system -, when legislation comes into force in October. Councils and utility companies will be given a 6 month window to move over to the new system, with all councils expected to be using the new technology by 1 April 2014.
The new technical specification has been published on the department's website and provides councils and utility companies with further guidance on the changes.
Notes to editors
The new technical specification is available.
The design of the new communication systems was led by the Highways Authorities and Utilities Committee (HAUC) and the ETON Developers Group.
HAUC are the main representative group from the sector, they bring together utility companies and local authorities to work cooperatively to improve road works.
The ETON Developer Group is an informal group of the five organisations that produce the computer systems. The cost of the upgrade will depend on the service agreement and contract between these companies and their customers. The department has no part in any contractual decision.
Cost and time savings were calculated by the department using estimates of potential benefits provided by ETON system users and developers. The costs associated with implementing the new systems and the time savings that will be seen once introduced were tested with the sector during an informal consultation.
Further information and the latest update on street works
Press enquiries: 020 7944 3066
Out of hours: 020 7944 4292
Public enquiries: 0300 330 3000
Published 9 April 2013