News story
New support package for Gurkha veterans
Measures to improve financial and social support have been announced by the Government in response to an inquiry into Gurkha welfare.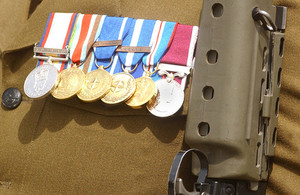 Through the Armed Forces Covenant, funding of £960,000 will be given to Gurkha Homes Limited to build 32 new affordable homes for Gurkha veterans and their partner/spouse in 4 locations around the UK.
The money comes from the £40 million Veterans' Accommodation fund, allocated to the Armed Forces Covenant from Libor (bank) fines.
This is in addition to the £5 million funding from Libor fines to be paid to the Gurkha Welfare Trust (GWT) over the next 5 years that was announced in the Autumn Statement.
Through the GWT's delivery arm in Nepal, the money will be used for healthcare provision and wider social support services for Gurkha veterans.
This government is proud that Gurkhas now serve on the same terms and conditions as their British counterparts, apart from a number of small differences.
The government's response also reaffirms its commitment to pay Gurkha pensions at double the top rate of Indian Army pensions.
Significantly, the government has also decided to establish a scheme to compensate the small number of Gurkhas who were discharged as a result of marrying a non-Nepali.
When seen in a 21st century context, the government does not believe this policy should have been allowed as it does not reflect the values of the armed forces.
The decisions come after Jackie Doyle-Price MP, chair of the All Party Parliamentary Group on Gurkha Welfare, offered to chair an inquiry into historic Gurkha grievances in November 2013.
The inquiry published its report on 23 October 2014 and the government has now responded to its recommendations.
The MOD and other Departments submitted extensive written evidence to the inquiry and it has taken a range of written submissions and oral evidence from representatives of Gurkha communities.
Anna Soubry, Minister for Defence Personnel, Welfare and Veterans, said:
The Gurkhas hold a special place in the hearts of the British people – this year, we mark the bicentenary of Gurkha service in the British Army.

We are very grateful to Jackie Doyle-Price MP for her excellent report.

The work we're doing to implement its positive recommendations will set the scene for the next chapter in the UK's close and enduring relationship with the Gurkhas.

In turn, they will further cement the strong bonds between the UK and Nepal.
Published 29 January 2015