Press release
New study to give insight into public health risks of ESBL E. coli
New project investigates public health risks of ESBL E.Coli to develop intervention plans to reduce infections caused by these bacteria.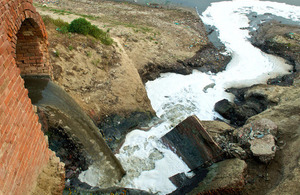 A new study by Public Health England (PHE) and funded by the Department of Health will, for the first time, establish the most significant reservoirs of a strain of antibiotic resistant bacteria known as ESBL-positive E. coli that cause human illness in the UK.
Its findings will help to develop intervention strategies in efforts to reduce the numbers of infections such as urinary tract infections or blood poisoning, caused by these bacteria.
The research is being led by PHE with key collaborators from the Animal Health and Veterinary Laboratories Agency, The University of Cardiff, The University of East Anglia, The University of Glasgow, Queen Mary University of London, and Health Protection Scotland.
The study will look at sewage, farm slurry and raw meat to determine whether there are any potential risks to human health in a number of different reservoirs of these bacteria. It will also look at stool samples from patients who have no symptoms of illness (asymptomatic carriage) to see whether the bacteria is in their gut (colonisation).
E. coli is a bacterium that lives in the guts of humans and many other animals. Colonisation of the gut by E. coli is perfectly normal and is harmless, although some other types cause diarrhoea. However, E. coli is also the commonest cause of urinary tract and bloodstream infections, which usually require antibiotic treatment.
Not all types of ESBL-positive E. coli bacteria cause human disease, and the contribution to human disease made by resistant strains from animals, meat and environmental sources is not well understood.
Resistant strains of E. coli are an increasing problem, reducing the number of antibiotics that a doctor can use for treatment. Many of the resistant strains produce enzymes called ESBLs (Extended-Spectrum Beta-Lactamases), which make them resistant to most penicillin-like antibiotics. E. coli with ESBLs can also be found in food animals, raw retail meat, sewage and river water, but whether these reservoirs pose any public health risk is poorly understood.
Professor Neil Woodford, Head of the Antimicrobial Resistance and Healthcare Associated Infections Reference Unit at PHE, said:
The risks posed to human health by resistant E. coli from non-human reservoirs are not fully understood. This study will help to disentangle this complex interrelationship.

Treatment of infections caused by resistant E. coli can be difficult, which is why we need to understand the risks better. Having said that, we want to reassure the public that presence of these bacteria in the gut does not require antibiotic treatment and is usually temporary. Most colonized people never develop an infection caused by the resistant strain.

This study is very important because its results will help to shape future intervention strategies to reduce the spread of these antibiotic-resistant strains of bacteria and to reduce the numbers of infections that they cause.
ENDS
Notes to editors
The amount of the funding from the Department of Health is £500,000 and the study is spread over three years. The study will cover different elements.
The first piece of research will look for ESBL-positive E. coli in 20-25,000 stool samples collected in five different geographical areas (London, East Anglia, North West, Scotland and Wales), which will determine rates of harmless gut carriage.
Secondly, sewage samples will be collected from various sites throughout each of the five regions and numbers of ESBL-positive E. coli will be measured in each sample.
Our third study will seek ESBL-positive E. coli in samples of farm slurry and from retail raw meats collected in each geographical region.
In the final part of the study, the ESBL-positive E. coli collected from the different sample types and in each region will be compared with those isolated from bloodstream infections to determine whether there are any genetic similarities between the resistant strains from sewage, animals, retail raw meat, and those isolated from human faeces and blood.
E. coli are bacteria that are commonly found in the gut of both people and animals where they live harmlessly. Some other strains can cause illness, including food poisoning, urinary tract infections and bloodstream infections.
ESBL enzymes were first described in the 1980s and during the 1990s were mainly seen in Klebsiella species found in hospitals mostly in intensive care units. Since early 2000s, they have become a global problem in E. coli.
The cycle of antibiotic resistance is complex with interlinking elements between antibiotic use and people, livestock, pets, sewage and the environment.
Public Health England Press Office
61 Colindale Avenue
London
NW9 5EQ
Tel: 020 8327 7901

Out of hours telephone 020 8200 4400
Photo above by Daniel Bachhuber on Flickr. Used under Creative Commons.
Published 3 July 2013