Case study
WW1 Canadian VC Recipient Wallace Lloyd Algie
The story of Canadian First World War Victoria Cross recipient Wallace Lloyd Algie.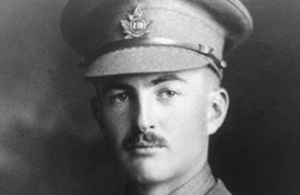 70 men from Canada received the Victoria Cross, Britain's highest award for gallantry, during the First World War. As part of the Centenary Commemorations the people of the United Kingdom marked their gratitude to those courageous men by presenting a bronze memorial plaque to their home country engraved with their names. The plaque is now displayed at the British High Commission Ottawa. This archive tells their stories.
Name: Wallace Lloyd Algie
DOB: 10 June 1891
Place of Birth: Alton, Ontario, Canada
Date of Action: 11 October 1918
Place of Action: Cambrai, France
Rank: Lieutenant
Regiment: 20th Infantry Battalion, Canadian Expeditionary Force
Wallace Lloyd Algie was born on 10 June 1891 in Alton, Ontario, Canada, in 1891. Having worked as a banker, he enlisted in April 1916, and joined the 20th Infantry Battalion of the Canadian Expeditionary Force.
Lieutenant Algie was posthumously awarded the Victoria Cross for his actions on 11 October 1918, the last day of the advance to Cambrai in France. His citation reads:
For most conspicuous bravery and self-sacrifice on the 11th October, 1918, north-east of Cambrai, when with attacking troops which came under heavy enfilade machine-gun fire from a neighbouring village. Rushing forward with nine volunteers, he shot the crew of an enemy machine gun, and, turning it on the enemy, enabled his party to reach the village. He then rushed another machine gun, killed the crew, captured an officer and 10 enemies, and thereby cleared the end of the village. Lt. Algie, having established his party, went back for reinforcements, but was killed when leading them forward. His valour and personal initiative in the face of intense fire saved many lives and enabled the position to be held.
Lieutenant Algie was buried in Niagara Cemetery, near Cambrai.
Published 20 June 2016