New study shows support for new homes
The British public are far more supportive of new housing developments in their area than commonly thought, according to a new study.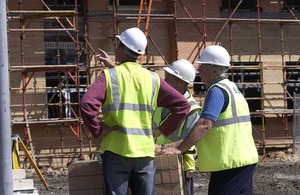 Today's Public Attitudes to Housing survey, published by the National Housing and Planning Advisory Unit, finds that more than 3 quarters of people would support more homes being built in their area, provided that local services such as GP surgeries and schools do not suffer.
Good quality housing design is also important to people with 73% saying they would support the building of more homes if well designed and in keeping with their local area.
Speaking to the Royal Institution of Chartered Surveyors earlier this week, Housing Minister Grant Shapps outlined his plans to introduce incentives for local communities to give the green light to new developments, while at the same time ensuring local services are able to meet the community's needs.
He said:
If we are really serious about supporting people's aspirations for home ownership, the real prize is we must build more homes. For the first time incentives will create direct benefits for local communities, bringing jobs, investment and more homes for local people.

Rather than being told what to build and where, residents of villages, towns and cities will be able to develop their own vision for their place.
Today's survey also shows that while the vast majority of people aspire to own their own homes, their efforts are still being hampered by the economic downturn. While 82% see home ownership as preferable to renting and other forms of tenure, three quarters of 25 to 34 year olds who do not own a home and expect to rent for the next 3 years, want to buy but cannot afford to do so.
In his speech to the Royal Institution of Chartered Surveyors, Mr Shapps heralded the return of an 'age of aspiration' for new homeowners, and committed the coalition government's support for those struggling to get their first foothold on the housing ladder.
He said:
I believe that it is human nature to aspire to shelter and security - and for the many that means owning the roof over your own head.

And I don't consider it my job as Housing Minister to hold those aspirations back.

With a new government and despite the enormous financial difficulties the country faces, I want to state clearly today: the age of aspiration is back.
Published 11 June 2010