Press release
New study offers bus pass holders a third off train travel
Third off train travel trial for older and disabled passengers with bus passes.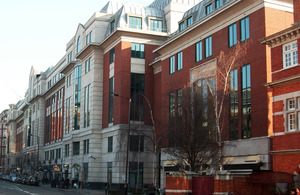 Older and disabled people with bus passes will be able to get a third off train travel as part of a 12 month experiment announced by Rail Minister Norman Baker.
The trial is being launched on Sunday to encourage more older and disabled people to use trains, and means concessionary bus pass holders will be able to claim discounted fares on 2 test routes without purchasing an annual Senior Railcard, which costs £28.
The scheme is being rolled out by First Great Western (FGW) and will apply to standard off-peak fares between Worcester and Swindon via Stroud, and between Westbury and Weymouth. The department will be assessing the trial keenly to see if a wider and more permanent application might be merited.
Rail Minister Norman Baker said:
This is great news for bus pass holders and hopefully they will take full advantage of the discounts on offer through this innovative scheme.

Everybody is feeling the squeeze at the moment and this trial will help older and disabled people save money while travelling on these 2 important railway lines.

The railways are not only a crucial part of our country's economic growth but they also provide a valuable link for families and friends. I am confident this scheme will help bolster those links and provide real benefits to those who need it most.
Campaigning groups including the National Pensioner's Convention and the National Federation of Occupational Pensioners have previously lobbied for concessionary bus passes to be used as a senior railcard, and believe it will lead to higher numbers of older and disabled people purchasing rail tickets.
The department will work with First Great Western to examine the commercial viability of the scheme with a final report due in November next year.
Mark Hopwood, First Great Western Managing Director, said:
First Great Western is privileged to provide services to some of the country's leading destinations and our branch lines to Worcester and Weymouth are symbolic of that.

We are delighted to be able to take part in this trial, which should help improve access for senior citizens and people with disabilities to the services that we offer.
Notes to editors
The aim of the study is to provide the DfT with robust information to inform Train Operating Companies (TOCs) and the Association of Train Operating Companies (ATOC) on the commercial viability of extending some of the privileges associated with the Senior and Disabled Railcard to all holders of English National Concessionary travel passes.
FGW will carry out a discount scheme over the course of one year offering holders of concessionary travel passes a 34% discount on standard class tickets at off-peak times (after 9:30am and before 11pm on weekday, all day on weekends and bank holidays) on the test areas of the rail network.
The study will report quarterly on a quantitative assessment of the changes in peak and off-peak patronage amongst older and disabled customers that result from the discount scheme being available. Comparisons, where appropriate will be made to First Great Western's continual customer research study; Customer Satisfaction Monitor (CSM).
DfT is due a final research report from FGW in November 2013.
Rail media enquiries
Media enquiries 020 7944 3021
Out of hours media enquiries 020 7944 4292
Switchboard 0300 330 3000
Published 31 August 2012