New standards announced for government grants
New standards published today by the Cabinet Office will ensure that grants will be effectively managed across government.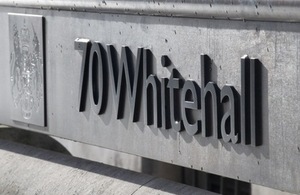 These standards will be adopted by all departments to make sure that taxpayers' money, awarded through government grants, is properly agreed and spent.
Included in the new set of grant standards is the creation of a Grants Advice Panel to consider 'high risk, new and contentious' expenditure as well as any significant increase in funding to existing grant schemes.
In addition all departments will be required to have robust grants approval process for spend over £100,000, and all grants need to be reviewed annually at a minimum. 
The government has engaged with a broad range of key partners, including those in the academic and research community, to understand the effect these standards will have on all sectors and to avoid any unintended consequences. These standards are a transparent, robust, and proportionate way to manage risks in the government grants process. 
They will also include a requirement for departments to ensure that grant agreements provide a clear outline of what the funding is to be spent on and how this would be monitored. Standards would put an end to grant money being wasted on activities not specified in the grant agreement, such as political lobbying.
The grants improvement programme is led by the Minister for the Constitution Chris Skidmore and aims to improve the efficiency and effectiveness of grant making across government. The programme included incorporating recommendations from the Public Accounts Committee and Public Administration and Constitutional Affairs Committee inquiries into Kids Company as well as reviewing grant programmes already underway.
Some of the poor practices highlighted included: 
lack of accountability
limited data to inform strategic decisions
limited consideration of alternative routes or match funding
lack of competition; little investigation of grant recipients prior to award
insufficient scrutiny of what was being delivered by recipients
monies being paid up front, making it difficult to claw back if misuse was identified
There are around 2,000 grant schemes across government, which together received more than £117 billion of government grants during 2016 to 2017.
Chris Skidmore, Minister for the Constitution, said:
This government is committed to ensuring taxpayers get value for money for every penny they spend. The standards we are announcing today will make sure all government grants are awarded with greater transparency, sufficient scrutiny and more accountability.

The detailed work we have undertaken since February, with government departments, research organisations and the voluntary sector has enabled us to develop these standards through a constructive and collaborative process. I am confident that they will protect taxpayers' money whilst at the same time, delivering key policy outcomes through our many partners.
Rob Wilson, Minister for Civil Society, said:
Government grants fund important work by thousands of charities in local communities across the country. The new grant standards announced today will not only increase the opportunity for charities to work with government through improved grant making practices, they will better protect the role of charities to speak out on behalf of their beneficiaries whilst ensuring taxpayers' money is used as intended.
Jo Johnson, Minister of State for Universities, Science, Research and Innovation said:
The evidence and advice provided by the UK's research community is key to shaping public debate and UK policy development.

The flexibilities in the new grant effectiveness guidance reflect this and honour our commitment to ensuring academic research and National Academies continue to have strong voice in policy debate, while protecting taxpayers' investment.
Background
The grant standards policy will replace the clause paused for review in April
Read the welcoming note about the grants standards from the Department for Business, Energy and Industrial Strategy
Read the full list of the grants standards
Published 2 December 2016