Press release
New single departmental plans set out how government will deliver its priorities by 2020
Each central government department has published their plan for how they will deliver the government's priorities and manifesto commitments.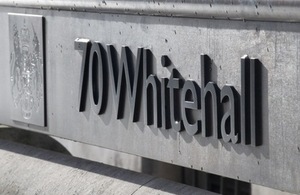 All 17 central departments have published detailed plans setting out how they will deliver the government's priorities and manifesto commitments over this Parliament.
Launched today (Friday), each single departmental plan brings together efficiency, spending review and activity plans into a single, clear road map for the first time. The plans will provide a new way of monitoring performance against department objectives and improve financial management across government.
Available on GOV.UK, the plans form a new framework to monitor and hold departments to account. For the first time, the public will be able to track a department's progress against its objectives using a set of indicators and view updates on a wide range of government work including education, housing and employment, all of which have a major impact on the everyday lives of working families.
Each department has developed their own plan which sets out key objectives and how they will deliver these with the resources they have been allocated at the Spending Review. The plans include indicators to show progress towards achieving each objective. Each department will update their plan with new data, as this becomes available, or provide narrative updates on performance where more appropriate. They also include links to more detailed published data sources.
The formulation of single departmental plans has been led by John Manzoni, Chief Executive of the Civil Service, as a way of business planning for each department, identifying clear commitments, driving efficiency and detailing how they will be delivered. The plans reflect government's priorities and outlines in detail how the department will become more efficient and further improve the effectiveness of services, including use of office space and digitising of services, cementing the government's position as a digital leader.
Chancellor of the Duchy of Lancaster Oliver Letwin said:
Single departmental plans will enable the public to see how government is delivering on its commitments, many of which will have a major impact on the everyday lives of people across the UK.

All 17 plans have been agreed between departments and the Cabinet Office and HM Treasury, which will allow the government to drive more effective implementation of its programmes and policies, track on-the-ground impact, and get the best results for the British public.
Minister for the Cabinet Office Matt Hancock said:
These plans are an important step in our commitment to being the most transparent government ever.

They are a valuable and vital tool for the Cabinet Office to use and providing challenge, support and expertise to each department, ensuring we are delivering an effective and efficiently run government.

We will hold departments to account to ensure we are delivering the promises we have made to the public, providing better services and delivering value for money for all.
Chief Secretary to the Treasury Greg Hands said:
At the Spending Review, we set out how the government will deliver on its priorities, to eliminate the deficit, and deliver economic security and opportunity for working people.

Whilst we've already made significant progress in strengthening financial management across government, the introduction of the single departmental plans is the next step to ensuring departments deliver the government's priorities.

The plans will not only increase transparency and accountability, but by focusing resources where they are needed the most, we will ultimately be able to guarantee greater value for money for taxpayers.
Notes to editors
single departmental plans are the performance framework for this Parliament. All 17 government departments are publishing their plans:

Foreign and Commonwealth Office
Ministry of Defence
Department for International Development
Department for Communities and Local Government
Home Office
Cabinet Office
Department for Environment, Food and Rural Affairs
Department for Work and Pensions
Department for Culture, Media and Sport
Department for Business, Innovation and Skills
Department of Health
Department for Education
HM Treasury
Department for Transport
Department of Energy and Climate Change
HM Revenue and Customs
Ministry of Justice
Territorial Offices are also providing short summaries that outline their priorities for this Parliament

the plans cover manifesto commitments, but also include key business as usual activities by the departments and their respective arm's length bodies
single departmental plans will constitute a single, clear roadmap for departments, which bring together their plans to deliver their objectives and to become more efficient. The development of the plans has been aligned with the Spending Review and all plans must be delivered within the department's agreed spending envelope
the plans are owned by departments within a consistent framework, designed in partnership by Cabinet Office and HM Treasury. Single departmental plans will form an agreement between departments and the centre on each department's priority objectives and work plan
Published 19 February 2016