Press release
New screening to tackle tuberculosis in the UK
A pre-entry TB screening programme will save lives and save taxpayers more than £40 million over ten years, announced Damian Green today.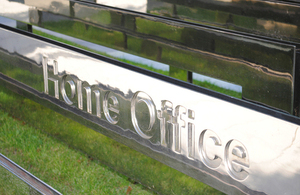 The new measures mean migrants wanting to enter the UK for more than six months, from 67 countries with a high incidence of TB, will need to be screened before they are granted a visa for the UK.
Immigration minister Damian Green said:
'Tuberculosis is currently at its highest level in the UK for 30 years and it's essential that we take action to tackle its continued rise. Pre-entry screening, followed by treatment where necessary, will help to prevent the risk of TB in the UK and will also save lives.
'Removing screening facilities at airports will save the taxpayer £25 million over ten years and further NHS savings will be made by preventing the importation and spread of TB in the UK.'
The introduction of pre-screening comes as recent figures showed that there were over 9,000 new cases of TB in the UK in 2011, a five per cent increase on 2010. The programme is targeted at migrants after research showed non-UK born people accounted for three quarters of all new TB cases diagnosed - 20 times higher than in the UK born population.
The UK border agency will build on existing pre-screening undertaken by international partners including the USA, Canada and Australia. The costs of screening and subsequent treatment will be met by those people applying to come into the UK.
Notes to editors
1. For all the latest Home Office news, photos and video visit the media centre: www.homeoffice.gov.uk/media-centre and to follow the home office on twitter at http://twitter.com/ukhomeoffice
2. For more information please contact Jon Street in the home office press office on 020 7035 3820 or the press office newsdesk on 020 7035 3535.
3. Tuberculosis (TB) is a serious airborne infection which constitutes a global public health issue and kills an estimated 1.8 million people worldwide each year.
4. World health organisation (WHO) estimate that about one-third of the world's population has latent TB, which means people have been infected by TB bacteria but are not ill with disease and cannot transmit TB, although they are at risk of developing active TB.
5. A third of the world's population carry TB in a latent form. Few will develop the active form of that disease and treatment for the active disease using multiple antibiotics is highly effective in the majority of cases.
6. The risk of onward infection only arises where the disease is in the active form in the lungs (TB can also affect other parts of the body which are generally not infectious) and on-entry and pre-entry screening to the UK is only for active TB in the lungs (active pulmonary TB).
7. Pre-entry screening will prevent admission to the UK of infectious TB sufferers and those diagnosed with active TB will benefit from the earlier detection of the disease.
8. Pre-screening has been successfully piloted in 15 countries with 300 active cases detected from 400,000 migrants screened. The countries involved in the pilot are: Bangladesh, Cambodia, Ghana (which also takes applications from Burkina Faso, Cote d'Ivoire, Togo and Niger), Kenya (which also take applications from residents of Eritrea and Somalia), Pakistan, Sudan, Tanzania, and Thailand (which also takes applications from Laos).
9. Pre-entry screening will be introduced to 67 high incidence countries in three stages over an 18 month period.
10. The 67 countries were identified by the WHO as high incidence for TB.
11. TB rates amongst the non-UK born population are more than 20 times higher than rates amongst the UK born population (86 per 100,000 as opposed to 4 per 100,000). NICE guidelines state that if an area has incidence rates of TB greater than 40 per 100,000 then it is considered critical.
12. Pre-entry screening will be introduced following a review of the UK's current TB screening arrangements by the UK border agency (UKBA), with the support of department of health (DH) and the health protection agency (HPA).
13. TB figures obtained from health protection agency (HPA):
http://www.hpa.org.uk/webw/HPAweb&HPAwebStandard/HPAweb_C/1317133254079
14. The 18 month pre-entry screening will be rolled out to the following 67 countries:
Tuberculosis high risk countries:
Afghanistan
Angola
Bhutan
Bolivia
Botswana
Burma
Burundi
Cameroon
Cape Verdi
Central African Rep
Chad
China
-Including:
China, Hong Kong SAR
China, Macau
Congo
Congo Dem Rep Zaire
Djibouti
Ecuador
Equatorial Guinea
Ethiopia
Gabon
Gambia
Guinea
Guinea-Bissau
Guyana
Haiti
India
Indonesia
Ivory Coast
Kazakhstan
Kiribati
Korea Dem People
Korea Rep of
Kyrgyzstan
Lesotho
Liberia
Madagascar
Malawi
Malaysia
Mali
Mauritania
Micronesia
Moldova
Mongolia
Morocco
Mozambique
Namibia
Nepal
Nigeria
Papua New Guinea
Peru
Philippines
Russian Fed
Rwanda
Sao Tome & Prince
Senegal
Sierra Leone
Solomon Islands
South Africa
Suriname
Swaziland
Tajikistan
Timorleste
Tuvalu
Uganda
Ukraine
Uzbekistan
Vietnam
Zambia
Zimbabwe
Published 21 May 2012