News story
New same day visa service to open in Chennai
The Home Office is launching the Super Priority Visa Service in Chennai today (Tuesday 18 June) following its success in Delhi and Mumbai.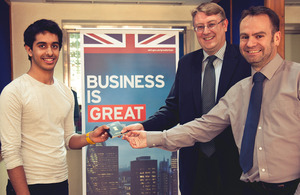 Since the service launched last month more than 100 applications have now been received.
Fast visa service
The Super Priority Visa was primarily launched to cater to business travellers needing to urgently travel to the UK. However applications have been made for a number of different reasons including last minute tourist trips and family visits.
Immigration Minister Mark Harper said:
We are very pleased about success of the same day visa services in Delhi and Mumbai, as the service was the first of its kind to be launched anywhere in the world.

The Home Office runs its largest visa operation in India, so it's good that we can expand our same-day service to Chennai. India and Britain share a long history of trade and we are constantly looking at ways to improve our visa operations around the world in order to encourage international trade and investment in Britain.
The Super Priority Visa Service is available to customers applying for a 6 month or 2 year multiple entry visit visa (excluding student visitors) who have previously travelled to the UK, USA, Australia, New Zealand, Canada or a Schengen country within the last 5 years.
It is also available to visa applicants sponsored by companies who are members of our Business Express Programme. The fee for the Super Priority Visa Service is £600, plus the standard fee for the type of visa being applied for.
More information about the fees, eligibility criteria and how to schedule an appointment
Published 18 June 2013