New rural growth drive to create 3,000 new jobs and 700 businesses
Five public and private sector partnerships have been selected to each deliver a regional Rural Growth Network.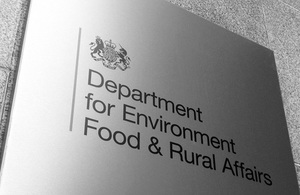 More than 3,000 jobs and 700 businesses are expected to be created by a new £15 million project to support rural businesses and boost the rural economy, Environment Secretary Caroline Spelman announced today.
Five new Rural Growth Networks across England will enable businesses in rural areas to reach their potential by breaking down barriers to economic growth, such as a shortage of work premises, slow internet connection and fragmented business networks.
Environment Secretary Caroline Spelman said;
"Great business ideas have been held back by the challenges of a rural location for far too long. Rural Growth Networks will fix problems like a shortage of work premises and limited internet access to give rural entrepreneurs the chance to get their business ideas off the ground and achieve their full potential.
"Our £15 million investment will create thousands of new jobs and hundreds of new businesses, boosting the rural economy and supporting thriving local communities. Altogether we're spending £165 million to support economic growth in rural England, and shows once again that we are firmly on the side of rural communities."
Five public and private sector partnerships have been selected to each deliver a regional Rural Growth Network. The five pilots will be run over three years in Swindon and Wiltshire; Durham and Northumberland; Devon and Somerset; Cumbria and Coventry and Warwickshire.
As well as transforming business prospects in these areas, each Rural Growth Network will be a pilot to help the Government look at how best to increase the economic potential of rural areas across the country.
Up to £2 million of the Government's investment in Rural Growth Networks will target rural enterprises led by women.
 Home Secretary and Minister for Women and Equalities Theresa May said;
"Women have a vital role to play and we want to encourage them to fully contribute their skills and talents to the economic recovery.  Establishing or growing a rural business presents particular challenges which this £2 million will help overcome.
"Women are about half as likely as men to be engaged in entrepreneurial activity. We want to inspire and help women achieve their potential, which is vital to generating long term sustainable growth."
The five Rural Growth Networks were selected based on their potential to grow the local economy by creating jobs and providing new business opportunities. 
Each application made proposals for supporting rural businesses and tackling local barriers to growth, such as a lack of superfast broadband, a shortage of business premises, fragmented business networks, limited training opportunities and poor infrastructure. Rural Growth Networks will enable businesses to overcome these problems and establish new business hubs at the centre of rural communities.
Rural Growth Networks are part of a £165 million package from the Government to stimulate economic growth in rural businesses and communities. Measures announced in November in the Rural Economy Growth Review include:
£100 million from the Rural Development Programme for England (RDPE) to help small businesses improve their skills, facilities and competitiveness;
Grants totalling £20 million to extend superfast broadband to the remotest areas;
£15 million for new Rural Growth Networks to help rural areas overcome barriers to growth such as poor infrastructure, scarcity of business premises and lack of business networks;
Action to make it easier to change the use of farm buildings to address the shortage of rural business premises;
£25 million to promote rural tourism and supporting its businesses (includes £10 million RDPE funding);
Loans totalling £15 million for community-owned renewable energy schemes; and
A new action plan to support the agri-food sector, including a £500,000 competition to support innovation and highlight opportunities for growth.
More information on the Rural Economy Growth Review can be found here www.defra.gov.uk/rural/economy/econ-business-broadband/rural-economy-growth-review/ 
Information on each new Rural Growth Network can be found at http://archive.defra.gov.uk/rural/documents/economy/regr-rural-growth-networks.pdf
Published 22 March 2012