Press release
New research partnerships set to boost patient treatments and economic growth
The government has launched the first two National Institute for Health Research (NIHR) partnerships for early stage health research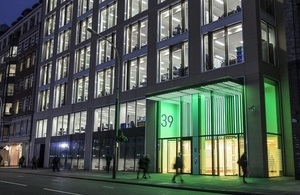 The government has launched the first two National Institute for Health Research (NIHR) partnerships for early stage health research, which will usher in a new era for clinical trials - accelerating the development of innovative treatments from the lab to patients, as well as providing a real boost to the growth of the life science sector.
The NIHR translational (early stage) research partnerships will allow NHS, university clinical researchers and life science companies to work together to focus on inflammatory respiratory diseases like asthma and joint-related inflammatory diseases like arthritis. The companies will be able to discuss their early breakthroughs with some of the country's world-leading scientists. This new collaborative approach will give new therapies the best possible chance of rapidly advancing into treatments for major health conditions.
The partnerships will attract investment from pharmaceutical companies in these important areas of health, by providing access to a unique network of top clinical scientists in Government-funded research facilities, leading universities and the NHS. These combine world-class research expertise, technologies and infrastructure, as well as cohorts of well-characterised patients.
As part of this launch, the government is providing £1.3 million to the partnerships to help set them up. This is one of the key commitments in the government's Plan for Growth published in March 2011. Having committed more investment to health research and infrastructure than ever before, the Government is working to create the best possible research environment in this country. Its vision is to harness the country's excellent biomedical research capability to increase our international competitiveness and contribute to economic recovery.
This new approach has been developed as pharmaceutical companies search for an alternative to the traditional model for discovering new drugs and treatments. The early response has been very positive and shows that industry and clinical academia are ready to move towards a more open and collaborative way of working, where partners share the rewards such as intellectual property.
The new set up means that when a company wants to collaborate with the NIHR Partnerships, just one legal agreement is now required rather than having to negotiate with each NHS Trust and University. Access to the Partnerships is via the NIHR Office for Clinical Research Infrastructure (NOCRI), providing an easy and consistent point of entry for industry.
Health Minister Lord Howe, said:
"We are modernising the NHS because it is vital that patients have access to new and innovative treatments.
"These National Institute for Health Research partnerships are a perfect example of how the government is creating the right environment for life sciences industries. They will make the UK much more attractive to pharmaceutical companies to invest in by cutting red tape - accelerating the progress of early stage health research projects from the lab to benefiting patients."
Minister for Universities and Science, David Willetts said:
"These research partnerships will provide a unique model for collaboration between the life sciences industry, the NHS and universities. They will be a key driver of growth and innovation, reducing the time it takes to translate research into benefits for patients and the economy."
Professor Dame Sally Davies, Chief Medical Officer and Chief Scientific Advisor, said:                                                                                        
"National Institute for Health Research Translational Research Partnerships bring together this country's leading clinical academic investigators to work in true partnership with industry in early phase research. By focusing on collaboration with industry in specific areas of disease and therapeutic need I believe they will bring new and better treatments, diagnostics and medical devices to patients faster. Our recent major investment of £800 million in NIHR Biomedical Research Centres and Units provides a strong foundation and impetus for the current, and future, Partnerships to flourish."
Sir John Bell, President of the Academy of Medical Sciences said:
"The National Institute for Health Research Translational Research Partnerships mark an important milestone for UK translational research. They demonstrate that the NHS is ready and willing to work with Industry in early development, the most difficult but most important part of the development pathway. They also illustrate that UK academic centres and their associated NHS Trusts are willing to work together to attract programs to the UK. The NIHR TRPs set a standard for collaboration and translational research which is unequalled internationally. With continued support from the partners and the NIHR they are certain to succeed."
Dr Liam O'Toole, Chief Executive of Arthritis Research UK said:
"As the largest charity funding arthritis research we know how vital early stage collaboration between industry, academia and the NHS is to developing new treatments for such debilitating diseases. Arthritis Research UK has been working closely with the arthritis partners in this initiative and we believe the Partnerships will lead to more new treatments coming through - and more patients being helped.  We welcome this new approach from NOCRI and look forward to continuing our work with the Partnerships."
Dr Allison Jeynes-Ellis, Medical and Innovation Director at the The Association of the British Pharmaceutical Industry (ABPI), said: 
"The changing model of drug development for the pharmaceutical industry is dependent on collaborative working with clinical academic investigators. Translational Research Partnerships offer an efficient and effective way for companies to work with some of the UK's leading translational research experts through NOCRI.  I believe companies will see great advantages to working with the Partnerships and consequently they will attract ground breaking research into the UK."
Nigel Gaymond, Chief Executive of the The BioIndustry Association (BIA), said
"For the bioscience industries, partnerships with investigators with proven expertise in disease mechanisms and potential therapeutic targets are vital for the development of new molecules.  Translational Research Partnerships provide an ideal structure to support the flow of ideas and innovation between industry and academia, as well as the efficient business processes that are crucial for both large and small bioscience companies."
Dr Neil Weir, Senior Vice President, Research at UCB, said:
"Translational Research Partnerships can offer an important new route for companies like UCB to develop potential new treatments in collaboration with the UK's leading investigators. It is encouraging how straightforward it has been to explore potential opportunities for collaboration with a group of expert researchers across multiple university and NHS centres. This has been facilitated by the structure of the Partnerships, together with the support provided by the NOCRI team."
Edward Hodgkin, CEO of Biotica, said:
"Genuine collaboration with translational research experts in universities and the NHS is very important to biotechnology companies like Biotica. Translational Research Partnerships offer a new and exciting route for this happen. They give us confidence that we are working with the UK's leading investigators and that any collaboration will be supported in a streamlined and efficient way."
ENDS.
Notes to editors
The two Translational Research Partnerships launching today focus on the following important research areas:
• Inflammatory respiratory disease - including asthma, allergy, COPD, cystic fibrosis, acute lung injury, and respiratory infection.
• Joint and related inflammatory diseases - including rheumatoid arthritis, osteoarthritis, and synovitis.
2. More information about Translational Research Partnerships can be found on the National Institute for Health Research website.
The government's Plan for Growth said:
• Formation of NIHR translational research partnerships to support collaboration with the life sciences industry in early and exploratory development of new drugs and other interventions
• The NIHR Office for Clinical Research Infrastructure (NOCRI) will co-ordinate the establishment of translational research partnerships, building on the existing pilot Therapeutic Capability Cluster initiative, and working with other funding partners including medical research charities.
• The NIHR Biomedical Research Centres and Units, to be designated in summer 2011 after an open competition with international peer review and in which the NIHR will invest £775m [now £800m], will form the basis of these partnerships.  The NIHR translational research partnerships will be a national initiative, involving other centres of excellence in the UK, and offer a unique international approach to support open innovation and collaboration with the life sciences industry.
• NOCRI will provide a single point of contact for industry engagement with the partnerships; model agreements will be deployed to support faster contracting between the partnerships and industry.
Further information can be found on the HM Treasury website.
For more information about the NIHR Office for Clinical Research Infrastructure (NOCRI)
NOCRI maximises the impact of the Department of Health's £0.5nb/year investment in clinical research infrastructure.  Further details can be found by emailing nocri@nihr.ac.uk or telephoning 0207 210 6217

About the NIHR
The goal of the National Institute for Health Research (NIHR) is to create a health research system in which the NHS supports outstanding individuals, working in world class facilities, conducting leading edge research focused on the needs of patients and the public.  Further details can be found on the National Institute for Health Research website.

List of participating organisations that are members of the NIHR Translational Research Partnerships:
Inflammatory Respiratory Disease Partnership:
Belfast Health and Social Care Trust
Queen's University of Belfast
Guy's and St Thomas' NHS Foundation Trust
King's College Hospital NHS Foundation Trust
King's College London
South London and Maudsley NHS Foundation Trust
University Hospitals of Leicester NHS Trust
University of Leicester
Central Manchester University Hospitals NHS Foundation Trust
Christie NHS Foundation Trust
Manchester Mental Health and Social Care NHS Trust
Salford Royal NHS Foundation Trust
University Hospital of South Manchester NHS Foundation Trust
University of Manchester
Nottingham University
Nottingham University Hospitals NHS Trust
Oxford Radcliffe Hospitals NHS Trust 
University of Oxford
Imperial College Healthcare NHS Trust
Imperial College London
Royal Brompton & Harefield NHS Foundation Trust
Southampton University Hospitals NHS Trust
University of Southampton
Royal Free Hampstead NHS Trust
University College London
University College London Hospitals NHS Foundation Trust
Joint and Related Inflammatory Diseases partnership:
Barts and The London NHS Trust
Queen Mary and Westfield College
Dudley Group of Hospitals NHS Foundation Trust
Sandwell And West Birmingham Hospitals NHS Trust
University Hospitals Birmingham NHS Foundation Trust
University of Birmingham
Cambridge University Hospitals NHS Foundation Trust
University of Cambridge
Imperial College Healthcare NHS Trust
Imperial College London
Guy's and St Thomas' NHS Foundation Trust
King's College Hospital NHS Foundation Trust
King's College London
South London and Maudsley NHS Foundation Trust
Central Manchester University Hospitals NHS Foundation Trust
Christie NHS Foundation Trust
Manchester Mental Health and Social Care NHS Trust
Salford Royal NHS Foundation Trust
University Hospital of South Manchester NHS Foundation Trust
University of Manchester
Newcastle University
Newcastle upon Tyne Hospitals NHS Foundation Trust 
Oxford Radcliffe Hospitals NHS Trust
University of Oxford
Royal Free Hampstead NHS Trust
University College London
University College London Hospitals NHS Foundation Trust
Published 6 October 2011