Press release
New Regulators' Code will shape new partnership with business
A new Regulators' Code will help shape a new partnership between regulators and the businesses and communities they serve.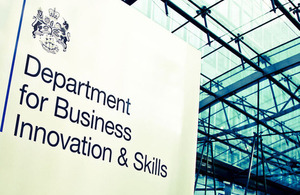 A new Regulators' Code published by Business Minister Michael Fallon on 25 July 2013 will help shape a new partnership between regulators and the businesses and communities they serve.
Finalised following a consultation with the business community as well as regulators and local authorities, it establishes how non-economic regulators should interact with those they are regulating.
Regulators should:
carry out their activities in a transparent way that helps those they regulate comply and grow
design simple and straightforward ways to engage with and hear the views of those they regulate
base their regulatory activities on risk and share information about compliance and risk
ensure clear information, guidance and advice is available to help those they regulate meet their responsibilities
The new Code is the latest step in the government's drive to put businesses' need for clarity, transparency and minimum bureaucracy at the heart of the regulatory system.
Business Minister Michael Fallon said:
Regulators' actions can impact directly upon a business's ability to succeed. It's essential that hard-pressed firms are not swamped with unnecessary bureaucracy, but are given pertinent advice and support.
This shorter, clearer Regulators' Code will increase confidence in our regulatory system, helping serve the twin purposes of protection and prosperity.
There are more than 50 non-economic national regulators with a combined budget of over £2 billion. Better dialogue and less red tape will allow regulators', including local authorities', resources to be focused on dealing with non-compliance, as well as providing useful advice and guidance for businesses that need it most.
The new code will also improve transparency around how businesses can appeal regulator's decisions and access data on appeal outcomes, responding to early findings of the Focus on Enforcement Appeals Review.
The code is published following a consultation, 'Amending the Regulators' Compliance Code', which ran from 8 March to 3 May 2013. Views were sought from stakeholders including businesses, trade bodies, local authorities and national regulators.
Notes to Editors
The Regulators' Code is at: http://www.bis.gov.uk/brdo/regulators-code

More information about the government's Focus on Enforcement Appeals Review is at: http://discuss.bis.gov.uk/focusonenforcement/focus-on-enforcement-review-of-regulatory-appeals-mechanisms-scope/

The government's economic policy objective is to achieve 'strong, sustainable and balanced growth that is more evenly shared across the country and between industries'. It set four ambitions in the 'Plan for Growth', published at Budget 2011:
to create the most competitive tax system in the G20
to make the UK the best place in Europe to start, finance and grow a business
to encourage investment and exports as a route to a more balanced economy
to create a more educated workforce that is the most flexible in Europe
Work is underway across government to achieve these ambitions, including progress on more than 250 measures as part of the Growth Review. Developing an Industrial Strategy gives new impetus to this work by providing businesses, investors and the public with more clarity about the long-term direction in which the government wants the economy to travel.
Published 25 July 2013