News story
New plan to get more people cycling
Department for Transport consults on Cycling Delivery Plan.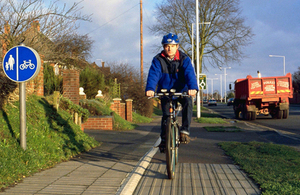 The Department for Transport has outlined plans to double cycling by 2025 and to explore how further funding can be generated for cycle schemes across England, which has already been doubled under this government.
The government's vision is that cycling, alongside walking, becomes the natural choice for shorter journeys, regardless of age, gender, fitness or income, beginning with encouraging children to walk or cycle to school where possible.
Cycling and walking not only cut pollution and congestion on our roads, but also have significant health and wellbeing benefits.
Funding for walking and cycling in England has steadily increased in recent years. For cycling, it is currently around £5 per person each year. However, there is still some way to go. The government's aspiration is that – working with local government, and businesses - we can together explore how we can achieve a minimum funding equivalent to £10 per person each year by 2020 and 2021 – and sooner if possible.
The money we're investing in our 8 cycle cities and TfL funding in London is already in excess of £10 per head per year.
The new delivery plan will help to persuade more people to take to 2 wheels by setting out specific actions to improve leadership, funding, infrastructure, planning and safety.
Transport Minister Robert Goodwill said:
This government is serious about making the UK a cycling nation. We have doubled funding since 2010, with £374 million committed between 2011 and 2015.

We want cycling and walking to become the natural choices for shorter journeys, kick starting a cycling revolution that will remove barriers for a new generation of cyclists.

This strategy provides a road map for the way forward.
Local action to promote cycling is evident through schemes being run across the country and the delivery plan is a call to action, asking local authorities and local enterprise partnerships to do more.
The delivery plan:
will forge partnerships between the government and local authorities – in exchange for signing up to a series of actions to deliver ambitious changes in cycling and walking - they will receive access to supporting tools and incentives, including priority access to funding, knowledge sharing, and sector expertise.
sets out further work to 'cycle proof' the road network, to ensure that cyclists are considered at the design stage of new and improved road infrastructure, which in turn benefits pedestrians too.
highlights work to develop guidance for engineers and other professionals working on cycling infrastructure to ensure they have access to skills development and guidance on how to design best practice cycle infrastructure.
explains the department's strategy to tackle cycle safety issues with a view to both reducing the rate of those killed or seriously injured on the roads, and to address the public perception that cycling is not safe
News desk enquiries
Media enquiries 020 7944 3021
Out of hours media enquiries 020 7944 4292
Switchboard 0300 330 3000
Published 16 October 2014