Press release
New Permanent Secretary for Cabinet Office announced: John Manzoni
John Manzoni will be the Permanent Secretary of the Cabinet Office in addition to his role as Chief Executive of the Civil Service.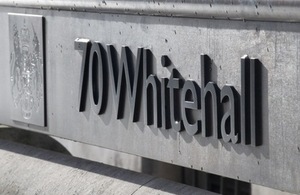 John Manzoni has today been announced as the new Permanent Secretary of Cabinet Office by Sir Jeremy Heywood, Cabinet Secretary and Head of the Civil Service. John will take on this role in addition to his responsibilities as Chief Executive of the Civil Service.
John will replace the current Permanent Secretary, Richard Heaton, who has been appointed as Permanent Secretary at the Ministry of Justice. Richard will move to his new post during the summer recess, allowing for a handover period to John to ensure a smooth transition.
John's appointment has been made by the Cabinet Secretary and approved by the Prime Minister.
The Cabinet Secretary, Jeremy Heywood, said:
John has earned wide respect across the Civil Service and beyond for his energy and commitment as the first Chief Executive of the Civil Service. As a highly experienced leader of large organisations, he is perfectly placed to lead the whole of Cabinet Office as we help the government deliver its important agenda.

I would like to thank Richard Heaton for his excellent leadership of Cabinet Office over the last 3 years, and I look forward to continuing to work closely with him in his new role at the Ministry of Justice.
Commenting on his appointment, John Manzoni said:
I'm looking forward to leading Cabinet Office through the next exciting phase. We have a large and crucial agenda to deliver across the whole of government, and no doubt many challenges to tackle. But I am confident for the future, as we have a highly talented and committed pool of staff, an excellent ministerial team to set direction, and strong foundations laid by Richard. We all send him our best wishes for his new role.
Minister for the Cabinet Office and Paymaster General Matthew Hancock said:
I am delighted at John's appointment as Permanent Secretary. I am sure he will bring the same enthusiasm and rigour to his leadership of the department as a whole as he's shown as Chief Executive. I look forward to continuing our close and collaborative working relationship. We're sorry to see Richard leave but he goes with our congratulations on his new role.
Notes to editors
About John Manzoni
John Manzoni was appointed by the Prime Minister as the first Chief Executive of the Civil Service from 13 October 2014. Prior to this, he was Head of the Major Projects Authority from February 2014.
John was previously President and Chief Executive Officer of Canadian oil and gas company Talisman Energy Inc. He has more than 30 years' experience in the private sector. In his 24 years at BP, he contributed to its global growth and held senior strategic and operational leadership roles at global, regional and local level. Between 2002 and 2007, he was Chief Executive, Refining and Marketing, spanning 6 different businesses across more than 100 countries, and he was a member of the BP plc main board from 2003 to 2007.
About Richard Heaton
Richard trained as a lawyer and qualified as a barrister. After a short period at the bar he joined the Home Office as a lawyer. He progressed through a number of legal roles in the Home Office, Cabinet Office and Lord Chancellor's Department before being appointed Head of Legal Services in the Department of Constitutional Affairs. He was head of legal services at the Department for Work and Pensions (DWP) and the Department of Health, before moving into a non-legal role, as DWP's Director General for pensions policy.
Richard has been First Parliamentary Counsel since February 2012, and was appointed Permanent Secretary of the Cabinet Office in August 2012. Richard is also chair of trustees at a south London charity, and is a Bencher at Inner Temple. He became the Civil Service race equality champion in 2014.
Following Richard's appointment as Permanent Secretary at the Ministry of Justice, and John Manzoni's as Permanent Secretary at the Cabinet Office, a civil service-wide recruitment exercise will be launched shortly to fill Richard's role as First Parliamentary Counsel.
Published 2 July 2015