Press release
New Permanent Secretary at Ministry of Justice announced
Richard Heaton has today been announced as the new Permanent Secretary at the Ministry of Justice by Sir Jeremy Heywood, Cabinet Secretary and Head of the Civil Service.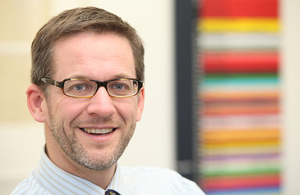 Richard, who is currently Permanent Secretary at the Cabinet Office and First Parliamentary Counsel, will replace Ursula Brennan, who is retiring from the Civil Service. Prior to the election, Ursula had informed the Cabinet Secretary and the previous Justice Secretary of her intention to retire, but she agreed to time her departure in order to ensure a smooth transition.
Richard is moving from the Cabinet Office, where he has been Permanent Secretary since August 2012. Richard's appointment has been made by the Cabinet Secretary and approved by the Prime Minister and by Sir David Normington, the First Civil Service Commissioner.
Ursula will remain Permanent Secretary until her departure during the summer recess, but the handover period will start shortly.
The Cabinet Secretary, Sir Jeremy Heywood, said:
"Richard is an inspirational leader who brings a combination of experience in leading organisational change from his role in the Cabinet Office and legal expertise from his time as First Parliamentary Counsel and his previous legal roles, both inside and outside the Civil Service. This makes him uniquely placed to steer the Ministry of Justice successfully through the changes of this Parliament. I look forward to continuing to work closely with him in his new role.
"I would also like to take this opportunity to thank Ursula for 40 years of dedicated public service. She has made a tremendous contribution across a wide range of departments and agencies, most recently in the Ministry of Justice as Permanent Secretary. She is widely admired as a role model throughout the Civil Service and has worked tirelessly to promote and inspire a generation of leaders. She has been a greatly valued Permanent Secretary colleague and I wish her all the best for the future."
Commenting on his appointment, Richard Heaton said:
"I am very pleased to be moving to the Ministry of Justice. The subjects addressed by the department - law, justice, prison reform, rehabilitation - are where I have spent much of my working life and they are close to my heart. I am looking forward to working with the MoJ's ministerial team and to leading the department's very many talented and committed people through the next period of reform and transformation."
Ursula Brennan said:
"In four decades in the Civil Service, I have had the great privilege of working in support of critical public services. From health and social security to rural development, and from defence to justice, I have been lucky to work with colleagues with strong public service values and a commitment to continuous improvement.
"I am hugely proud of the team here in the Ministry of Justice and I will miss the many colleagues with whom I have shared the challenge of delivering important public services in a time of austerity."
Justice Secretary, Michael Gove said:
"I would like to thank Ursula for all she has achieved and her devotion to public service. Her advice to me and to my predecessors has been invaluable and she has played a significant role in leading the department and delivering the priorities of the Government of the day. I wish her a happy retirement.
"I am delighted that Richard will be joining us. He joins at a challenging but exciting time. Richard's skills and experience across government and record of leadership in policy, change and the legal field make him a great fit for the department. I am looking forward to working with him."
A service-wide competition will be launched shortly to replace Richard as the First Parliamentary Counsel.
John Manzoni, the Chief Executive of the Civil Service, will take over as Permanent Secretary for the Cabinet Office, in addition to his role as Chief Executive.
Published 2 July 2015