Press release
John Manzoni to lead Major Projects Authority
The former BP executive will bring 30 years' commercial experience to government's projects assurer, improving public services and saving taxpayers money.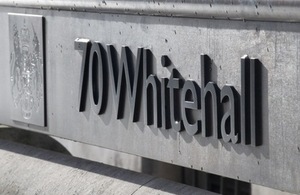 John Manzoni is to join the civil service as Chief Executive of the Major Projects Authority (MPA), Minister for the Cabinet Office Francis Maude announced today.
Most recently President and CEO of Canadian oil and gas company Talisman Energy Inc. , Manzoni has more than 30 years' experience in the private sector. He spent 24 years at BP, contributing to its global growth and has held senior strategic and operational leadership roles at global, regional and local level.
Within the BP Group he served in both direct line management and functional leadership roles in the UK and overseas. Between 2002 and 2007, he was Chief Executive, Refining & Marketing, spanning 6 different businesses across more than 100 countries. He was a member of the BP plc Main Board from 2003 to 2007.
His new role will see him lead the MPA as Chief Executive. The Major Projects Authority was set up in 2011 with a mandate from the Prime Minister to turn around poor project management in government. It acts as a central oversight function, providing resources for civil servants, standardised assurance for Ministers and transparency for taxpayers.
John Manzoni says:
Some of the largest and most complex projects can be found in government and it's the scale of the challenge that makes this role interesting. Working with departments, and at the service of talented civil servants, the MPA has already delivered remarkable improvements. To me, the key to its continued success is the quality of project professionals at the centre and in departments. It always comes down to the people.

If we get this right, it will be a sustainable agenda that is good for all seasons and all political persuasions. It's hard to fight against the logic of spending large amounts of money more effectively and improving public services at the same time.
Francis Maude says:
John has an impressive record of leading global operations and delivering complex, challenging briefs. His experience will be invaluable to the civil service and to taxpayers. I'm delighted he is joining the Cabinet Office and this is a great example of how we can bring talented men and women with private sector experience into Whitehall.

As part of this government's long-term economic plan we must to continue to improve the civil service's management of major projects. Last year the Major Projects Authority saved hard-working taxpayers £1.7 billion. I'm confident that with John's leadership we can go even further and make a real difference to the delivery of these projects which matter to all of us.
Danny Alexander, Chief Secretary to the Treasury adds:
The Major Projects Authority has real power to intervene in failing projects and stop taxpayers' money being wasted, and it is already turning around our record of delivering Britain's most important projects. John's experience speaks for itself, and his leadership will ensure we continue to spend money wisely and eliminate the waste of the past.
Sir Bob Kerslake, Head of the Civil Service says:
Improved project delivery is a crucial part of our Civil Service Reform Plan - indeed, in the future, no one will lead a major project without completing extensive training at the Major Projects Leadership Academy. It is fantastic that John Manzoni is bringing his extensive experience to lead the next generation of civil service project managers.
Stephen Kelly, Chief Operating Officer adds:
The MPA's success lies in delivering quality outcomes on time within budget, and we are passionate to see MPA become the leading authority in world class project implementation. The fusion of private sector best practice with a strong public service ethos is key to this future. The MPA has already had a strong start working with departments delivering major public projects and I have no doubt that John's leadership and proven success will accelerate our delivery.
Published 3 February 2014