New patent application arrangements will save businesses money
Intellectual Property Minister Baroness Wilcox has welcomed new arrangements for filing patents in Europe which will cut costs for UK businesses.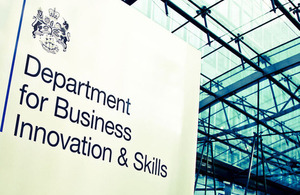 From tomorrow applicants will supply the European Patent Office (EPO) with fewer documents than before, which will save companies money on the fees they pay agents for making the application.
Baroness Wilcox said:
"Reducing the burden of bureaucracy saves businesses time and money. It is essential in creating the conditions for businesses to grow and prosper. These new arrangements will make it cheaper and easier for UK firms to obtain patent protection as they look to expand into other European countries. The UK has been campaigning for greater work sharing like this and I am pleased to see this latest development. Cutting duplication is key to dealing with the worldwide backlog of patent applications. The quicker we deal with patent applications, the quicker firms can bring the latest innovations to the consumer."
The EPO enables companies to make one application for patent protection in up to 40 European countries rather than making separate applications in each country.
But individuals cannot make their own applications to the EPO so companies must engage a patent attorney to do it for them.
The new arrangements mean applicants will no longer have to supply the EPO with the results of searches already done by the Intellectual Property Office (IPO). Instead the IPO will automatically supply the information from its records and around 5,000 applications a year will benefit from this change.
This will mean less bureaucracy and costs for business while also improving efficiency at the EPO. It will also help tackle the major international backlog of patent applications.
It is estimated the patent backlog costs businesses as much as £7.65 billion each year.
Links
BIS patent application press release
Published 31 December 2010