World news story
New online visa form for visitors launched
On 23 February a new online application service for visitors was launched in India as part of a global rollout over the coming months.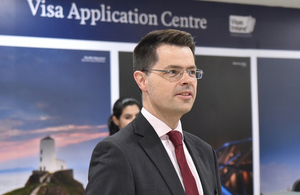 The new online application form for visitors went live today, further to being announced by UK Immigration Minister James Brokenshire during his visit to India last week.
As well as taking less time to fill out, the new online form will make it easier for customers going on holiday or for business to the UK and Europe, to apply for both UK and Schengen visas. Once the form has been filled out, customers will be able to download an auto-completed Schengen application form to print and apply with. Initially the form will launch in English but it will be translated into Hindi, Tamil and Gujarati, making it more straightforward for customers across India to apply for their UK visit visas.
The new form launches in India following its success in mainland China and is available to customers applying for a Standard Visitor visa, Visitor (Marriage & Civil Partnership), or Visitor (Permitted Paid Engagement) visa.
Customers will be able to use the service to apply, book an appointment and pay for their application using the standard, priority or super priority visa service.
UK Visas & Immigration is committed to improving the visa service in India, by making it more convenient, quicker and easier for applicants to apply for their visas.
To access the new UKVI Online Application Service, visit the website.
Stuart Adam, Director,
Press and Communications
British High Commission,
Chanakyapuri, New Delhi 110021
Tel: 44192100; Fax: 24192411

Mail to: Natasha.Woollcombe@fco.gov.uk
Follow us on Twitter, Facebook, Flickr, YouTube, LinkedIn, Storify, Eventbrite, Blogs, Foursqare, Instagram, Vine, Snapchat @UKinIndia, Persicope @UKinIndia
Published 24 February 2016