Press release
New north Wales partners join UK Government's 'Northern Powerhouse'
Pioneering businesses and education providers now part of UK Government initiative to boost jobs, improve infrastructure and promote world-class learning.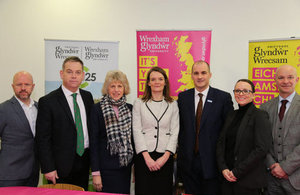 Four organisations from across north Wales - including some of the region's most prestigious education providers and innovative companies officially join the UK Government's Northern Powerhouse Partner Programme.
Glyndŵr University and Coleg Cambria will join the programme to support a more prosperous north Wales and north of England, alongside adventure tourism company Zip World and Wrexham Mineral Cables, a manufacturer of fire-resistant insulated cables.
The Northern Powerhouse is the UK Government's vision to maximise economic growth across north Wales and England, to provide well-paid jobs, better local and cross-border transport and to support our world-renowned universities. Each of the new partners took part in a public signing event at the Catrin Finch Centre at Glyndŵr University today alongside Northern Powerhouse Minister, Jake Berry MP and UK Government Minister for Wales Nigel Adams MP.
Other Welsh business organisations already signed up to the network of almost 200 Northern Powerhouse partners include defence technology company Raytheon and the North Wales Mersey Dee Business Council. The Partners Programme is an integral part of the Northern Powerhouse agenda, bringing together different stakeholders to work alongside government and business with the shared aim of increasing productivity and boosting economic growth across the north of Wales and England.
Northern Powerhouse Minister, Jake Berry MP, said:
The Northern Powerhouse is the UK Government's ambition to bring together the great cities, towns and rural communities of the north of England and Wales to drive economic growth, by creating high-value local jobs, modern transport links, and increased investment.
I'm proud to welcome our four new partners in north Wales - Zip World, Wrexham Mineral Cables, Coleg Cambria and Glyndŵr University – who share our vision and highlight the diverse range of organisations taking part in the Northern Powerhouse Partners Programme. By working more closely together we can ensure that our economic ambitions are realised in north Wales and across the whole of the Northern Powerhouse.
UK Government Minister for Wales Nigel Adams said:
I am delighted to formally welcome four leading Welsh organisations to the Northern Powerhouse initiative.
These new partners represent a variety of sectors and each of them is championing north Wales' strengths, bringing a depth of experience and ideas to realise our economic potential. Together with partners from across the border and UK Government support, they will create good jobs for local people and improve the capacity of our national infrastructure to better connect our communities.
Andrew Hudson from Zip World said:
It's a great time for Zip World to be joining the Northern Powerhouse partner programme. 2018 saw us securing both a UK Private Business Award and a UK Fast Track 100 award. We're passionate about promoting North Wales as a tourist destination and in 2018 Zip World's business generated £251 million into the regional economy, a figure which has continued to rise significantly. With three quarters of visitors staying at least one night in the region, the trickle down effect on local accommodation and hospitality venues has been clear.
Wrexham Glyndwr University Vice-Chancellor, Maria Hinfelaar said:
We welcome the opportunity to became a Northern Powerhouse Partner to ensure North Wales is on the map as a key area of the North. We are committed to the social and economic development of the region, in fact, the majority of our graduates remain locally upon completion of their studies and work in priority sectors in North Wales, such as advanced manufacturing, so we are well placed to drive forward the skills agenda of the Northern Powerhouse.
Nathan Cook from Wrexham Mineral Cables said:
As a leading exporter of Fire Resistant Cables with manufacturing based in North Wales, we are pleased to have joined the Northern Powerhouse partner programme and are keen to work with other partners, to showcase Wales and the North as a great area for trade and investment. We are well placed to promote the Northern Powerhouse to our growing global audience through our exporting activity, which was recently recognised when we were named as finalists for the West Cheshire and North Wales Chamber of Commerce Export & International Trade Award.
David Jones, Chief Executive of Coleg Cambria said:
Coleg Cambria was created five years ago following the successful merger of Deeside and Yale colleges. With a range of training provision including Higher Education, Further Education and apprenticeships, we feel we can contribute extensively to the skills agenda for the Northern Powerhouse as well as contributing through our workforce development and business growth activity across the North East Wales and Mersey Dee economy.
ENDS
Notes to editors:
The Northern Powerhouse Partners Programme is an essential part of creating the Northern Powerhouse. The UK Government is looking to build a network of partners who all believe strongly in the economic potential of the north, and support the need for a combined effort by government and business to realise that potential. There are nearly 200 businesses and organisations signed up to the Partners Programme.
Prospective partners can email NorthernPowerhouse@communities.gov.uk for more information about the Partners Programme and how to apply.
For more information about the Northern Powerhouse, visit https://northernpowerhouse.gov.uk/ Through the North Wales Growth Deal, the UK Government is working alongside the Welsh Government and local authorities to drive economic growth and new opportunities across the North Wales region. Both governments have committed a total of £240million to coordinate new investment and policy interventions to drive growth in key areas.
Published 31 January 2019