Press release
New Non-Executive Directors for Monitor, the independent regulator of NHS foundation trusts
Keith Palmer and Sigurd Reinton have been appointed as Non-Executive Directors of Monitor, Health Secretary Andrew Lansley announced today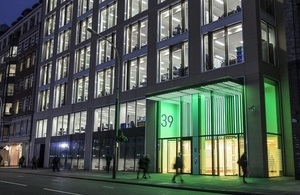 Keith Palmer and Sigurd Reinton have been appointed as Non-Executive Directors of Monitor, Health Secretary Andrew Lansley announced today.
Mr Reinton has been appointed from 1 January 2012, and Mr Palmer from 1 April 2012. Both appointees will serve a four year term on Monitor's Board of Directors.
Andrew Lansley said:
"I am pleased to announce the appointment of Keith Palmer and Sigurd Reinton to be Non-Executive Directors of Monitor.
"Mr Palmer and Mr Reinton both offer a wealth of experience to Monitor's board, including invaluable roles with NHS organisations.
"I am confident their respective experiences, both in and outside the NHS, will benefit patients through Monitor's work."
Monitor's Chair, Dr David Bennett, said:
"I am delighted to have two such experienced individuals joining Monitor's Board in what will undoubtedly be a challenging, but exciting period for the organisation. Both appointments bring direct experience of running NHS organisations as well as professional expertise from other sectors.
"Their experience in health means they understand the responsibility for providing services that patients depend on each and every day. Leading a regulator will be a different challenge, but our ultimate responsibility is also focused on patients and ensuring they have access to high quality care. I am certain that Keith Palmer and Sigurd Reinton will be invaluable in helping Monitor to ensure the interests of patients are at the heart of what we do."
Sigurd Reinton said:
"This is an exciting time to join Monitor as it prepares to take on proposed new functions. It must at the same time be alert to the financial and other challenges facing the NHS right now and use its proposed powers to influence the behaviour of those who provide NHS care to improve patient outcomes and their experience of that care. I hope to be able to help Monitor through this transition and to make sure we never lose sight, when making decisions, of what is best for patients and their families."
Keith Palmer said:
"The NHS should provide high quality care for all its patients. Monitor has an important role to play providing strong effective regulation to bring this about. I hope to draw on my experience in the NHS and other regulated sectors to help Monitor achieve this goal."
Notes to editors:
All appointments are made on merit and political activity plays no part in the selection process. However, in accordance with the original Nolan recommendations, there is a requirement for appointees' political activity (if any declared) to be made public. Both appointees declared they have no involvement in any political activity.
The appointments have been made in accordance with the Code of Practice set out by the Commissioner for Public Appointments. 
Keith Palmer is founder and non-executive chairman of InfraCo, a not-for-profit public private partnership that develops infrastructure in developing countries and of AgDevCo, a not-for-profit public private partnership that supports agricultural development in sub-Saharan Africa. He is also currently a Senior Associate of the Nuffield Trust. His previous involvements in the health sector include non-executive director of Guys and St Thomas's NHS Foundation Trust, Chairman of Barts and the London NHS Trust and Senior Associate of the Kings Fund. Other positions that he has previously held include Treasurer and Trustee of Cancer Research UK and Vice-Chairman of NM Rothschild merchant bank. Keith Palmer has not declared any additional ministerial appointment.
Sigurd Reinton is a director of NATS Holdings, which provides the air traffic control services for UK and North Atlantic airspace, and for the main UK airports. At NATS, he serves on the Audit and Nominations Committees and chairs the Stakeholder Council. He was Chairman of the London Ambulance Service NHS Trust for ten years until 2009 and before that of Mayday University Hospitals NHS Trust. He was a member of the Board of the Ambulance Services Network and of the advisory board of The Foundation.  He was a member of the Council of the NHS Confederation from 1998 to 2007 and was the lead for London. He was previously a Director (senior partner) at McKinsey & Company. Sigurd Reinton currently holds an additional Ministerial appointment with the National Air Traffic Services Ltd and has done since 2007 for which he receives £36,000 per annum on behalf of the Department for Transport.
For media enquiries, please call the Department of Health please call the Newsdesk on 020 7210 5221.
Both appointees will receive remuneration of £325 per day,  for a time commitment of 2-3 days per month.
Monitor is an Executive Non-Departmental Public Body set up by an Act of Parliament in 2003. It is formally known as the Independent Regulator of NHS Foundation Trusts and is responsible for authorising, monitoring and regulating NHS Foundation Trusts. Subject to passage of the Health and Social Care Bill currently before Parliament, it is proposed that from April 2013, Monitor's primary duty will be to protect and promote the interests of people who use healthcare services by promoting value for money and quality in the provision of services. It will also have a role in enabling the integration of services where this would improve quality of care or improve efficiency, and supporting the continuity of vital services in the event of failure. Working with the NHS Commissioning Board, Monitor will regulate prices across the NHS.
Published 16 January 2012