Press release
New non-executive directors appointed to the DCMS board
Ruby McGregor-Smith and Ajay Chowdhury have been appointed as non-executive directors to the Department for Culture, Media and Sport (DCMS) board by Culture Secretary Maria Miller.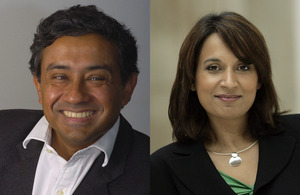 They will join lead non-executive director David Verey and non-executive director Dr Tracy Long.
Secretary of State for Culture, Media and Sport, Maria Miller said:
The appointments of Ruby McGregor-Smith and Ajay Chowdhury mark a real change at the DCMS, both will bring new skills and experience to the Board that will be of real benefit to the Department.
Ms McGregor-Smith became the first Asian female chief executive in the FTSE 250 when she reached that position at MITIE. She is currently chair of the Women's Business Council and a driving force in promoting the women's agenda. Her appointment will bring a wealth of business expertise and insight into equalities issues to the board.
Mr Chowdhury brings decades of experience in the digital and technology industry which will be vitally important as the department rolls out the UK's broadband programme, one of the largest infrastructure projects in Government.
Notes to Editors
Ajay Chowdhury and Ruby McGregor-Smith have both been appointed for three years from 1 April 2013.

They replace Peter Bazalgette, now Chair of Arts Council England and Lord Coe, who was invited to attend DCMS Board meetings by virtue of his position as Chair of LOCOG.

Ruby McGregor-Smith CBE is the Chief Executive of MITIE Group PLC, the strategic outsourcing company. She joined MITIE in 2002 and was appointed as CEO in 2007. She is one of a small number of women holding the position of Chief Executive in the FTSE 100 and FTSE 250 and was the first Asian woman to be appointed to such a role within that group of companies. Since joining, she has seen MITIE grow its revenue from £0.5bn to over £2.0bn, continuing its unbroken track record of profit and revenue growth. Ms McGregor-Smith is Chair of the Women's Business Council, an Independent Non-Executive Director of PageGroup, Member of the Board of Trustee Directors Business in the Community and Member of the Presidents Committee and Public Services Strategy Board at the CBI.

Ajay Chowdhury is Chairman of ComQi, a global digital media company. Over the last 20 years he has worked extensively in media, the arts and technology, co-founding IDG Ventures Europe, before which he was European CEO of NBC Internet. Prior to that he was CEO of LineOne, one of the UK's largest Internet Service Providers, before which he was Managing Director of the New Media division at United News & Media. He founded the Rented Space Theatre Company, where he is the Artistic Director, directing over a dozen plays. Mr Chowdhury has an MBA from Wharton, studied Theatre at the Central School and Film at the Metropolitan Film School, subsequent to which he made two short films.

The appointment process for non-executive directors has been run according to OCPA guidelines. All appointments are made on merit and political activity plays no part in the selection process.

More information about the updated protocol for departmental boards, can be found on the Cabinet Office website.
Published 9 May 2013