News story
New National Cardiovascular Intelligence Network
Today, PHE hosts the first major event bringing together key stakeholders from the National Cardiovascular Intelligence Network (NCVIN).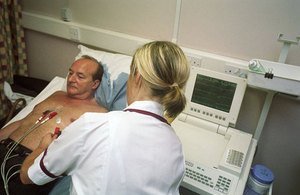 Announced earlier this year in the cardiovascular disease outcomes strategy, the NCVIN aims to use data and information to improve the quality of care and outcomes of communities, patients and their families affected with diabetes, heart, stroke and renal diseases, viewing these as a single 'family of conditions'.
It will operate across organisations, including NHS England, National Institute for Health and Care Excellence (NICE), local authorities, charities, academic institutions and other organisations.
Throughout the day, attendees will take part in talking about the barriers and opportunities to link data across cardiovascular disease and how the network will inform service and quality improvement.
John Newton, Chief Knowledge Officer at PHE, said:
The network will enhance our ability to use authoritative data as a powerful information source for healthcare professionals and policy makers, as well to improve public health outcomes surrounding these conditions. It's crucial that we work with our partners, such as NHS England and NICE, and the intelligence network is a great platform to do this.
Professor Huon Gray, National Clinical Director for Heart Disease for NHS England and Chair of the National Cardiovascular Intelligence Network, said:
We know that although cardiovascular disease (CVD) may manifest itself differently in individual patients, in practice it represents a single family of diseases and conditions linked by common risk factors and the direct effect they have on CVD mortality and morbidity. Many people who have one CVD condition commonly suffer from another and yet opportunities to identify and manage these are often missed. By looking at information and data from the perspective of a single family of cardiovascular disease, NCVIN offers a real opportunity to work across the health and social care sector and give the intelligence needed to inform improved and more integrated care for people with CVD.
The NCVIN will be 1 of 5 intelligence networks, with others including mental health, cancer, child and maternal health and end of life.
Read the cardiovascular disease outcomes strategy.
Visit PHE's data and knowledge gateway to access data and analysis tools from across the organisation.
Published 11 December 2013