Press release
New lease of life for Shepherd's Bush Market
Shepherd's Bush Market in line for multi-million pound makeover after ministers approved a major regeneration project on the historic site.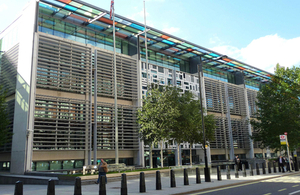 The decision will bring new life and new customers to the iconic market which has been operating since 1916. The refurbishment will create new look stalls and includes building 200 new homes in the heart of west London.
At its height, in the 1980's, Shepherd's Bush boasted more than 200 stalls selling fresh fruit, vegetables and clothes to local residents.
However since its heyday the market has declined in size, with dwindling numbers of shoppers, hitting local trade.
In 2008 Hammersmith and Fulham council commissioned a survey that concluded more than £2.3 million of refurbishment work was needed to bring the market back to its former glory.
In 2012 the council began compulsory purchase process after its planning committee gave outline planning permission for the regeneration scheme submitted by developers Orion Shepherd's Bush Limited.
Ministers have now determined there is a strong public interest case in confirming the order to help secure the future success of the market.
Ministers said it benefited neither traders nor locals for the market to be allowed to continue to decline and regeneration was vital to ensure the market's long-term survival.
Planning Minister Brandon Lewis said:
Shepherd's Bush Market has been part of west London's street life for almost 100 years – we want to ensure this landmark feature survives for 100 more.

It has the potential to bring substantial economic, retail and social benefits to the area with a regeneration scheme safeguarding the distinctive identity of this iconic market.

This market is held in great affection by the local community. Regeneration will enable it to continue to provide a diverse range of stalls to meet their needs as well as improving the appeal for new visitors and shoppers alike.
The council and developer have set out plans to temporarily re-locate existing stall holders and shopkeeper, while the regeneration project is taking place.
Further information
The independent survey commissioned by Hammersmith and Fulham council was conducted by Parsons Brinkerhoff.
In December 2010 a survey by Marketlink of traders, customers and residents of Shepherd's Bush confirmed a widespread perception of continuing decline.
The council approved outline planning permission for the scheme on 30 March 2012.
The council resolved to grant approval of principle reserved matters on 3 April 2014.
The council made the compulsory purchase order on 25 February 2013. The order was considered at a public inquiry on 17 to 20 September 2013, 23 to 27 September 2013 and 25 November 2013.
Read the full decision letter.
Office address and general enquiries
2 Marsham Street
London
SW1P 4DF
Contact form http://forms.communiti...
General enquiries: please use this number if you are a member of the public 030 3444 0000
Published 10 October 2014