New jobs and global trade for Yorkshire after multi-million pound investment
New multi-million pound investments in Yorkshire businesses will create jobs, open global business opportunities and help rebuild the nation…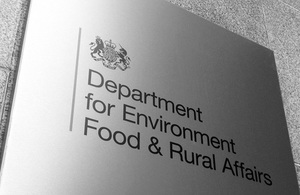 New multi-million pound investments in Yorkshire businesses will create jobs, open global business opportunities and help rebuild the nation's finances Environment Minister David Heath announced today.
Mr Heath is in the county to visit two local employers, Nestle and Chippindale, that are working with the Government to achieve economic growth, create jobs and help Britain compete in the global race.
Environment Minister David Heath will open Nestle's extended research and development facility following a £7 million investment, further enhancing its role as a global centre of excellence in confectionery research. A number of jobs are expected to be created on the back of the investment, including apprenticeships and posts for PhD graduates. Last year, Nestle committed to investing a £500 million in the UK operations over a three year period.
In Harrogate, Mr Heath will announce Defra's £490,000 investment in Chippindale's £3 million new egg processing facility near Knaresborough. The public/private sector project is expected to create up to 20 jobs and protect 40 more over the next three years. It will mean more job security for the 28 local egg farmers that already supply the egg company and increase demand from other farms in the area. The 80-year-old family-run business is confident that the more efficient plant will enable it to join Nestle in the global market by opening up new export opportunities.
Environment Minister David Heath said;
"The aspiration shown by these Yorkshire businesses is exactly what will get Britain on the rise again, growing our economy, creating jobs and competing in the global race.
"Yorkshire is a great place to do business and home to some really enterprising people. I want to do all I can to make it easier for them to thrive. Nestle is helping the Government to identify and overcome the challenges businesses face and we are giving thousands of businesses like Chippindale the support they need to grow."
Professor Stefan Palzer, Managing Director of Nestle's global Product Technology Centre for confectionery in York said;
"The newly extended Nestle PTC further strengthens our research and development capabilities for confectionery worldwide.  We are delighted to welcome the Minister today to show how after 150 years since Rowntree's was created, the City remains a global centre for confectionery."
Defra's business grant to Chippindale is part of its £100 million Rural Development Programme for England that has already transformed the prospects of thousands of rural businesses.
Managing Director Nick Chippindale said;
"I'm very proud to be moving Chippindale Foods to a fantastic new facility which will allow sustained growth for future generations.
A grant from Defra has helped us to meet the cost of the project so that we can pack and grade eggs more efficiently, create jobs and give local farmers the opportunity to increase supply."
Chippindale is a family-run egg packaging company, which has been in the family for four generations. Sixty per cent of its eggs are free range and the remainder are mainly colony eggs that meet the EU standard.
Published 21 November 2012