New 'Inspiring Communities' guide launched to help people get involved in community activities
Inspiring communities, changing behaviour.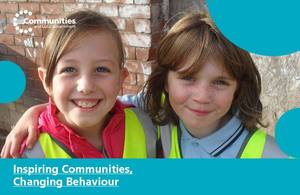 Today (16 June 2011) sees the launch of a new handy tips and advice guide designed to help encourage people of all ages and backgrounds to get further involved in local life and bring lasting improvements to their communities.
From kickstarting local projects, organising community festivals and engaging local businesses, the Inspiring communities guide offers practical tips for anyone interested in running similar projects. It draws upon real life examples highlighting the experiences and the important and creative contributions made by communities across the country.
Communities Minister Andrew Stunell said:
"Whatever your age, everyone should be given the opportunity to feel part of their community and get involved in local projects. The examples highlighted are just a flavour of what can be achieved when people of all ages and backgrounds work together, bringing their own unique perspectives and ideas.
"We know that real change is driven by those who know their local area best. That's why we are shifting the emphasis back to local neighbourhoods and giving power back to the people to take in the lead in their own communities.
"I hope these examples and pointers are a useful source of inspiration for the many people across Britain raring to get more involved in their community."
1 of the examples in the guide is the 'Meet up Cafe' in Thetford, Norfolk. Set up in 2009 the cafe provides a hub for the local community, providing training opportunities and activities to help get the young people of Thetford more involved in the local area.
Sharon Matthews, of the Benjamin Foundation, who help run the Community Cafe said;
"We are always looking for new ways to inspire and empower our services users and the young residents of our county. Using both the customer insight material, and the 'Inspiring communities' guide we have been able to ensure that a new service launch, the Meet Up Cafe in Thetford, has made the best use of the strengths of the local community which it serves.
"In little more than 18 months the Meet Up Cafe has worked with over 400 children and their families, held many learning events for adults and young people, ran intergenerational projects, and has encouraged many young people to try new things and visit new places."
Published 16 June 2011