News story
New guidance on reducing the risk of illness when open water swimming
Public Health England (PHE) has published a leaflet about open water swimming, which means swimming in lakes, rivers and reservoirs.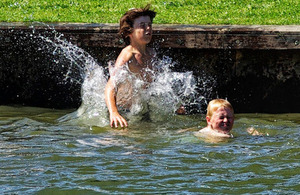 The activity is growing in popularity in the UK but there have been outbreaks of gastrointestinal infections reported associated with open water swimming, the most recent in late 2012 on the River Thames in London.
This particular outbreak prompted an investigation by PHE London. The results of the report have now been used by the South West London health protection team and their colleagues to develop a leaflet to advise participants involved in these events on practical measures that can be taken to reduce the risk of illness.
Open water swimming can increase the risk of gastrointestinal infections (diarrhoea and/or vomiting) as well as respiratory, skin, ear and eye infections. Most symptoms of these illnesses will generally be mild, caused by organisms such as norovirus, giardia and cryptosporidium. However, there is also a risk of more severe infections caused by organisms such as E. coli O157 which may cause severe gastrointestinal illness and leptospirosis, which can cause liver and kidney problems.
Practical measures swimmers can take to reduce the risk of illness include minimizing the swallowing of river water, showering soon after swimming and washing hands before eating.
The Swim Healthy leaflet was partly supported by the epidemiological investigation of an outbreak of gastrointestinal illness following a mass-participation swim in the River Thames.
Published 9 August 2013