Press release
New government campaign to get people on the electoral register
Chloe Smith, Minister for Political and Constitutional Reform, has launched a campaign to get as many people as possible on the electoral register.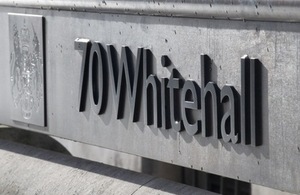 The campaign is particularly targeted at groups of people who have been identified as being under-represented on the electoral register, including young people aged 16-24 and people in social housing.
Organisations, neighbourhoods and communities have been asked to come up with ideas to get people involved in the democratic process locally and nationally, with the best ideas being awarded funding from the new Innovation Fund. Funding is also being made available to local authorities who have solid and creative ideas to get as many people onto the electoral register as possible in their area. Total funding in this area will be £4.2 million.
The minister also launched an initiative called Rock Enrol, to be delivered in schools and colleges, which educates 16 and 17-year-olds on the importance of having a voice and gives them the opportunity to register to vote. New resource materials designed by young people have been launched today for teachers to use in classes.
People who live in social housing are also under-represented on the electoral register, and local authorities will be given specific funds to canvass residents directly, knocking on their doors where necessary, to make sure as many people as possible register to vote.
Speaking at the Local Government Association Annual Conference in Manchester Chloe Smith is expected to say:
I'm really excited to be launching this new campaign, with the aim of getting as many people as possible to exercise their right to vote. If you aren't on the register, you can't vote, simple as that, but it's also an important part of being a member of society. For example, it could have an impact on your credit rating and your application for a mobile phone contract.

Previous generations have campaigned, fought and died to preserve and improve our democracy. We all share responsibility to encourage everyone entitled to vote to get registered to do so. This means not only the government, but also civil society, campaigners, politicians and parties.
Simon Woolley, Director of Operation Black Vote said:
Civic society, schools, hospitals, public transport and so much more work best when we all have a say about how they are run. Registering to vote is a key part of that process. In an ever changing world we need to find new ways to ensure everyone is registered to vote, has a voice and is able to improve our society.
The new campaign is launched as local authorities begin a 'dry run' rehearsal of the transition to Individual Electoral Registration (IER), which will go live in England and Wales in June 2014, and in Scotland following the referendum on independence in September 2014. Under the new system, instead of receiving a household registration form, everyone will have to take responsibility to register themselves individually, including providing identification information such as their National Insurance number.
For the first time people will also be able to register online. IER will improve the voting system to make it safer and simpler to register to vote. Preparations for the transition are already well under way, and have remained on budget and on track for the changeover next year. Most people - around two-thirds - will not have to do anything in order to remain on the electoral register when the changeover takes place, as the current register will be matched against other public databases such as that held by the Department of Work and Pensions. If your records do not match, you will receive a letter asking you to register using the new individual forms.
There are two major benefits to the system we are introducing: because we will ask for identifying information such as date of birth and National Insurance number, we can verify that everyone on the register is who they say they are. This is vital as we create a register in which everyone can be fully confident, one which reduces duplication and eradicates redundant entries.
The second benefit of IER is that, because we are targeting people individually, we can work towards making sure the maximum number of people are on the register, including hard to reach and under-represented groups. Some people, such as those in shared housing and students who move regularly, might not even realise a form has been delivered to their home. Under IER, everybody will be contacted and will be empowered to take responsibility for being on the register.
IER will give us the opportunity to make sure the register has as many eligible people as possible on it – it will be more accurate than ever, and we can be sure every individual who is entitled to vote can do so.
Notes to editors
The 'Rock Enrol' lesson framework was co-created with young people from the youth-led organisation Bite the Ballot.
Published 4 July 2013