Press release
New government ambassadors created to promote apprenticeships
Two new government apprenticeship ambassadors were appointed today.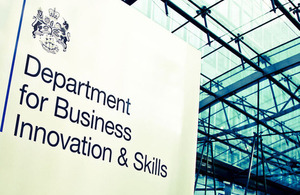 Two new government apprenticeship ambassadors were appointed today - an Apprenticeship Ambassador to Business and an Apprenticeship Ambassador to Parliament - with the aim of increasing the number, quality and impact of apprenticeships in England.
The two new roles, established by the Business Secretary Vince Cable and Education Secretary Michael Gove, will help to raise the profile and prestige of apprenticeships amongst employers, MPs, Peers and the wider public to support the government's efforts to increase demand for high quality apprenticeships.
As part of his new role, Apprenticeship Ambassador to Business, Gordon Birtwistle MP – who started life as a craft engineering apprentice - will engage with employers of all sizes advocating the benefits of high quality apprenticeships. He will have a particular focus on promoting apprenticeships for young people aged 16-24 and apprenticeships at advanced and higher levels, as well as in priority sectors, where the need for skills is greatest, such as engineering.
Andrew Jones MP, newly appointed Apprenticeship Ambassador to Parliament, as well as engaging with employers and advocating apprenticeships, will be responsible for encouraging MPs to get involved in promoting apprenticeships in their constituencies and providing them with the information and advice they need to do so.
Both ambassadors will regularly relay their findings to the Department for Education and Department for Business, Innovation and Skills to help improve policy making.
Business Secretary Vince Cable said:
I am delighted to welcome Gordon to this new role. I cannot think of a more credible ambassador to business and young people, explaining the benefits an apprenticeship brings, than someone like Gordon who started out his life as an apprentice and built a very successful career on the back of it.
My ambition is that by 2015, any school leaver should look at an apprenticeship and a degree as equal in terms of value, earning potential and employability. These new ambassadors will help the government ensure that apprenticeships are the recognised, high quality, vocational route which people of all ages aspire to.
Education Secretary Michael Gove said:
I am delighted that we have appointed two ambassadors to promote apprenticeships. It is vital that the qualifications and assessment involved in every apprenticeship are rigorous, trusted, and give employers confidence in the ability of their apprentices.
Gordon Birtwistle MP said:
I am delighted to be joining the government's efforts to promote apprenticeships. As a former apprentice myself I recognise the value and importance of apprenticeships. Whenever I meet young apprentices I am blown away by their enthusiasm and mature approach to their careers. I am excited to have this opportunity to help the government debunk the myths around apprenticeships and encourage more young people and businesses into taking up these high skilled roles.
Andrew Jones MP said:
The growth in apprenticeship numbers is a significant government success. There are 650 MPs, so we could have 650 local champions promoting apprenticeships up and down the country, driving even faster growth. I am looking forward to starting, and working with colleagues across parliament to help them become those local champions.
Today the government published its response to the Richard Review of apprenticeships, which sets out its plan to redefine apprenticeships to build on their success and make them among the best in the world. It will also raise standards, overhaul qualifications, assessment and delivery, and place apprenticeships firmly in the hands of employers.
Notes to editors:
1.The appointments are supported jointly by the Department of Education and Department for Business, Innovation and Skills. The roles will be unpaid and run for one year with the option of extending until the end of the current parliamentary term.
2.In conducting these roles the Apprenticeship Ambassador to Business and Apprenticeship Ambassador to Parliament will:
engage with employers to encourage them to offer high quality apprenticeships
engage with young people, and those who provide them with support and information, including schools and teachers, as well as with young adults and prospective apprentices of all ages, to inform them about the benefits of apprenticeships and hoe to access them and
act as a champion for apprenticeships to help raise public awareness of the value of apprenticeships and encourage more people to promote apprenticeships
work closely with the National Apprenticeship Service and Apprenticeship Ambassadors' Network, whose core roles are to champion apprenticeships to employers and individuals
have agreed regular mechanisms for reporting findings and activities into the Minister for Skills and officials in the Department for Business, Innovation and Skills and Department for Education.
3.Gordon Birtwistle is MP for Burnley, England. Birtwistle started as a craft engineering apprentice in 1958 with textile machinery manufacturers Howard & Bullough. He later set up his own company called C&G Cutter Grinding Services in Blackburn, before selling it to a large engineering PLC in the mid-1980s and then setting up P&J Engineering Supplies four years later.
Before entering Parliament in 2010 he had been a Burnley Council leader since 2006 and a local councillor since 1982.
4.Andrew Jones is the MP for Harrogate and Knaresborough. Originally from Ilkley and educated locally at Bradford Grammar School and Leeds University. Jones lives in Harrogate, and before being elected an MP worked in sales and marketing for Bettys and Taylors of Harrogate. He is a vice chair of the All Party Parliamentary Group on Stroke and a member of the All Party Parliamentary Rail in the North Group.
5.The government's economic policy objective is to achieve 'strong, sustainable and balanced growth that is more evenly shared across the country and between industries'. It set four ambitions in the 'Plan for Growth' (PDF 1.7MB), published at Budget 2011:
to create the most competitive tax system in the G20
to make the UK the best place in Europe to start, finance and grow a business
to encourage investment and exports as a route to a more balanced economy
to create a more educated workforce that is the most flexible in Europe.
Work is underway across government to achieve these ambitions, including progress on more than 250 measures as part of the Growth Review. Developing an Industrial Strategy gives new impetus to this work by providing businesses, investors and the public with more clarity about the long-term direction in which the government wants the economy to travel.
Published 14 March 2013