Press release
New GCSE in cooking and nutrition announced
Pupils to get hands-on experience and a real understanding of food and nutrition.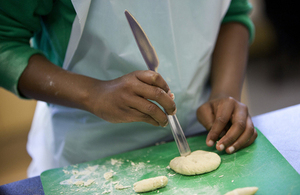 A new GCSE in cooking and nutrition will be taught in schools from September 2016 alongside the reformed GCSE in design and technology so that pupils studying each subject get the full benefit of demanding, high-quality courses, School Reform Minister Nick Gibb said today.
The new GCSE will require pupils to acquire a proper understanding of the scientific principles behind food and nutrition, and use a number of practical cooking techniques to prepare and cook food.
The government has today (25 September 2014) published a consultation on the draft content for this new GCSE alongside revised content for GCSEs in design and technology, drama, citizenship studies, and AS and A levels in drama and theatre.
Minister for School Reform Nick Gibb said:
At the heart of any food qualification should be a focus on developing practical cookery skills and a strong understanding of nutrition.

That's why we've created the cooking and nutrition GCSE so that rather than designing food packaging, students will now learn the essentials of food science, nutrition and how to cook healthily.

This qualification will give young people the preparation they need to succeed in the food and hospitality industries as well as giving them vital life skills.
The proposed content for the new GCSE in cooking and nutrition has been developed with input from experts including the authors of the School Food Plan. It builds on the best of the 3 main current food-related GCSEs (design and technology: food technology; home economics; and hospitality and catering) but will also include new content on the scientific knowledge underlying cooking and food preparation.
The new qualification will be demanding and give students in-depth knowledge of nutrition, food choice, where food comes from, and practical cooking as well as the ability to apply this knowledge when cooking. It will prepare them for further study, such as a high-quality food-related tech level, or apprenticeships in the catering or food industries.
Henry Dimbleby, co-founder of Leon and the School Food Plan, said:
This qualification is another big step forward for food education in this country following the introduction of cooking as compulsory in the curriculum this term for all children up to the age of 14. I particularly like the new emphasis on understanding and enjoying British and international cuisines and encouraging students to develop their own recipes.

It is a serious qualification that will be another step towards creating a healthier and happier society.
Exam boards have worked with subject experts, including the Dyson Foundation and the Design and Technology Association, to draft the content of the reformed design and technology GCSE, with cutting-edge content and product design at the heart of the proposals.
Experts felt that including food technology within this GCSE, as currently, does not allow enough space for food science and nutrition and skilled practical cooking that are in demand from students and employers. As a result, a distinct GCSE in cooking and nutrition has been developed.
This is the latest announcement by the government to help strengthen the understanding of food in schools.
From January 2015, a revised set of standards become statutory for food served in maintained schools and some academies and free schools. These standards will make it easier for school cooks to create imaginative, flexible and nutritious menus so that pupils eat healthily at school.
The revision of school food standards is just 1 of a number of actions from the School Food Plan that the government is implementing. This plan, written by John Vincent and Henry Dimbleby, aims to improve the food that is served in schools and the broader food culture in schools. Other actions being implemented include:
putting cooking into the curriculum - from September 2014, cooking and food education became an entitlement for all children in key stages 1 to 3 in maintained schools
setting up 2 flagship boroughs in London to demonstrate the impact of improving school food on a large scale
funding projects to help schools increase take-up of good school food
funding the set-up of school breakfast clubs
introducing free school meals for all infants
developing materials to train headteachers in food and nutrition
Notes to editors
There are currently 3 different food-related GCSE qualifications (design and technology: food technology, home economics, and hospitality and/or catering). Ofqual has recently consulted on the proposal that qualifications should be distinct to ensure comparability of standards and that qualifications which overlap do not continue. The consultation closed on 31 July.
The government has also reformed GCSEs in English and maths, the English Baccalaureate subjects, and a number of other subjects, including music, physical education and computer science.
The draft content can be found here: GCSE and A level reform consultation.
DfE enquiries
Central newsdesk 020 7783 8300
General enquiries 0370 000 2288
Published 25 September 2014