Press release
New funding for traineeship scheme announced
An extra £20m is being made available to the government's new Traineeships programme to support even more young people into Apprenticeships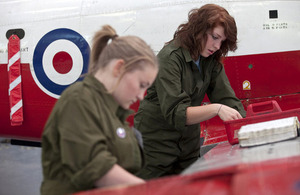 An extra £20m is being made available to the government's new Traineeships programme to support even more young people into Apprenticeships and other jobs.
The additional funding was announced as Skills Minister Matthew Hancock travelled to Nottingham to meet young people already taking part in the scheme.
Traineeships, which began in August, provide 16 to 23-year-olds with the skills, experience and confidence to compete in the labour market – helping them secure Apprenticeships or other jobs.
More than 500 providers have pledged to take on trainees this year and so far 150 companies, both large and small, have all expressed an interest in offering placements to young people. They include household names such as BAE Systems, Siemens and Virgin Media.
Skills Minister Matthew Hancock said:
Traineeships give young people the helping hand they need to compete for Apprenticeships and other jobs.

The programme is off to an excellent start with strong backing from employers and training providers.

We have responded to this demand by providing additional investment and in time traineeships will become the clear route for young people looking to get the crucial grounding they need in the world of work.
Traineeships are part of the government's wider aim to ensure the future workforce possess the skills employers want in their employees.
Traineeships last a maximum of 6 months and provide:
work preparation training such as interview preparation and CV writing
support to improve English and maths skills
a high-quality work experience placement (between 6 weeks and 5 months)
training from providers who are rated 'Outstanding' or 'Good' by Ofsted
Chris Starling, Head of Apprenticeships, Virgin Media said:
Traineeships are a great opportunity for both parties, not only can the employer get to know the trainee but the trainee can get real exposure to the type of career that is available and make an informed decision that is best for them.
Maurice Daw, chief people officer, Virgin Media said:
Our very first trainees are now being taken on as full time field technicians, so we're delighted with the traineeship scheme. The experience and skills boost that the traineeship offers is already creating more opportunities for people to find a route into work.

We are really pleased that there is more investment in the scheme. It will help employers like us by creating a bigger and better pool of candidates and it will help individuals looking for career opportunities.
Toby Peyton-Jones, HR Director of Siemens plc, said:
Siemens supports Traineeships wholeheartedly– this new programme is a very important stepping stone that enables young people to gain skills that allow them to enter Apprenticeships in Engineering or take up a job in the engineering supply chain.
Notes to Editors:
Traineeships are an education and training programme with work experience, providing 16 to 23 year olds with skills and vital experience that employers are looking for. Employers are at the heart of traineeships, running the programme or offering high quality work experience in partnership with a training provider.

The Skills Funding Agency funds 19 to 23 traineeships . The additional funds have been made available by the Skills Funding Agency and will support traineeships for 19 to 23 year olds.

Traineeships are a joint BIS-DfE programme. All young people undertaking a traineeship will be required to study English and maths unless they have achieved a GCSE A-C in those subjects or, for those aged 19 and above, a GCSE A-C or a Functional Skills qualification at Level 2.

Young people who want to find out about traineeships can contact 0800 100 900

Employers who are interested in getting involved can contact the National Apprenticeship Service.

The government's economic policy objective is to achieve 'strong, sustainable and balanced growth that is more evenly shared across the country and between industries'. It set 4 ambitions in the 'Plan for Growth', published at Budget 2011:
to create the most competitive tax system in the G20
to make the UK the best place in Europe to start, finance and grow a business
to encourage investment and exports as a route to a more balanced economy
to create a more educated workforce that is the most flexible in Europe
Work is underway across government to achieve these ambitions, including progress on more than 250 measures as part of the Growth Review. Developing an Industrial Strategy gives new impetus to this work by providing businesses, investors and the public with more clarity about the long-term direction in which the government wants the economy to travel.
Published 3 October 2013