Press release
New fund will help regulators and business work together for growth
Regulators and local authorities invited to bid for fund that will enable them to pioneer more business-friendly enforcement of regulation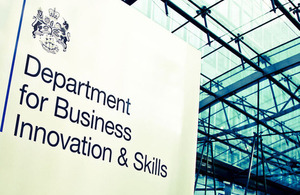 Business Minister Michael Fallon today invited national regulators and local authorities to bid to a new fund that will enable them to pioneer more business-friendly enforcement of regulation.
The Regulatory Innovation for Growth programme, part of a wider drive to reduce red tape, will provide up to £20,000 per project to support innovative new ways of enforcing regulation. Proposals must be based on closer working relationships with businesses, helping firms comply with essential requirements without burdening them with bureaucracy.
These could include, for example, supporting start-up businesses as they are created, to help them understand and comply with regulation in a way that supports the success of their new enterprise, or providing new, more accessible forms of information and training for specific sectors.
The most successful schemes will help inform the development of the Government's proposed 'growth duty' for regulators, which will require regulators to take into account the impact of their activities on the economic prospects of firms they regulate.
Business Minister Michael Fallon said:
Better regulation has an important role to play in supporting enterprise and prosperity, and the Government has called time on bureaucratic processes that hold businesses back.
But top–down solutions are not the answer. That's why we are asking people at the front line to demonstrate how they can better help businesses comply with regulation quickly and efficiently.
This is a vital part of our drive to put government on the side of law-abiding businesses, supporting growth and enterprise while maintaining the highest standards of compliance.
The fund, part of a wider drive to reform the enforcement of regulation, will support a total of six projects. Trade associations and professional bodies that provide advice and support to help businesses meet their regulatory requirements are also eligible to apply.
The programme is administered by the Better Regulation Delivery Office (BRDO), and is part of a wider £500,000 pound investment in improving the enforcement of regulation. Further initiatives include support to a number of Local Enterprise Partnerships that are improving the way enforcement is delivered by working with business communities, and support to trade associations and local authorities that are working in partnership to develop reliable, sector-specific advice for business
For more information, or to apply for funding, visit: http://www.bis.gov.uk/brdo. The deadline for applications is 9am, Wednesday 29th May 2013.
Notes to Editors
1.On 8th March 2013 Michael Fallon launched two consultations to re-shape the way regulators work with business, so that upholding standards does not act as a barrier to growth and enterprise. Businesses and regulators are invited to contribute to the development of a proposed 'growth duty' for regulators - which will require regulators to take into account the impact of their activities on the economic prospects of firms they regulate. A parallel consultation seeks views on an updated Regulators' Code - which removes uncertainty for businesses by clarifying what they can expect from those that regulate them, including accessible advice and methods of enforcement that are tailored to meet the needs of the business. The six-week growth duty consultation will close on 19 April. The eight-week regulators' code consultation will close on 03 May. For more information, or to contribute, businesses are invited to visit: http://www.bis.gov.uk/brdo/publications
2.There are now more than 689 businesses and 100 local authorities operating one or more of 2,256 primary authority partnerships. Primary Authority enables businesses which operate within multiple local authority areas to form a statutory partnership with a single local authority, which then provides robust and reliable advice and coordinates inspections and enforcement. Subject to parliamentary process, Primary Authority is set to be extended to cover thousands more businesses operating within trade associations and franchises and there are proposals to expand the number of regulations covered by the scheme.
3.The Regulatory Innovation for Growth programme will also examine how BRDO can maximise information sharing and peer-to-peer learning across all grant projects. Alongside the individual grants, BRDO will offer support and training in project management and evaluation.
4.Focus on Enforcement reviews examine how regulation is enforced – whether through inspections, advice, and direct enforcement – with a view to identifying examples of good practice and areas where reform would be beneficial. Four reviews, together with details and action plans setting out proposed reforms have been published to date. The programme's web-site also gives individuals and businesses the opportunity to provide evidence on areas under review and 'in focus' such as, currently, a review of childcare. Businesses can also contribute to a wider review of appeals mechanisms operated by national and local regulators. Visit http://discuss.bis.gov.uk/focusonenforcement/
5.The government's economic policy objective is to achieve 'strong, sustainable and balanced growth that is more evenly shared across the country and between industries'. It set four ambitions in the 'Plan for Growth' (PDF 1.7MB), published at Budget 2011:
to create the most competitive tax system in the G20
to make the UK the best place in Europe to start, finance and grow a business
to encourage investment and exports as a route to a more balanced economy
to create a more educated workforce that is the most flexible in Europe.
Work is underway across government to achieve these ambitions, including progress on more than 250 measures as part of the Growth Review. Developing an Industrial Strategy gives new impetus to this work by providing businesses, investors and the public with more clarity about the long-term direction in which the government wants the economy to travel.
Published 15 April 2013