Press release
New fund will boost digital innovation
Up to £99,000 will be available for NHS organisations that come up with new digital services that improve patient care and help share information more easily across the NHS, the Department of Health announced today.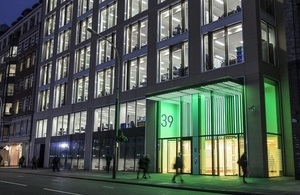 The Information Sharing Challenge Fund is looking for innovative ideas that change the way information is currently used and shared between different organisations so that NHS staff, clinicians and patients can access information when they need to and patients can be involved in decisions about their care if they wish to be.
NHS organisations can bid for funding if their ideas demonstrate value for money and can easily be adopted by other NHS organisations as part of the NHS Interoperability Toolkit (ITK). The toolkit is a set of standards and frameworks that allows different IT systems to connect together.
Health Minister Lord Howe said:** **
"We want to support doctors, nurses and healthcare professionals to be innovative in the NHS. That is why we have created this fund to encourage NHS organisations to come up with new digital ideas that not only improve services for patients but help create an environment  where local IT information can be more easily shared across the NHS. I look forward to seeing the ideas that come forward."
**Ailsa Claire,_ _Transition Director for Patients and Intelligence, NHS Commissioning Board Authority said: **
"The recently published NHS Information Strategy highlights the need for a "connect all" approach to IT systems and the Information Sharing Challenge fund is all about helping care services collaborate. There are many opportunities for effective information sharing between NHS organisations, social services and the third sector.
"The public rightly expects the NHS, social care and other organisations to work together. Encouraging local innovation in this way will allow for better integrated care and allow patients to access their information so they can make decisions based on what they need."
Maternity Digital Capture and Telehealth are good examples of innovative IT that are being piloted across the NHS. These systems enable improved patient care by transferring data from digital systems, such as tablet PCs, digital pens and remote patient monitoring systems, to central clinical records to be shared with patients and health care professionals.
Notes to editors
For media enquiries only please contact the Department of Health on 0207 210 5477.
The Information Sharing Challenge Fund prospectus, supporting information and application form are now available for download. 
Applications to the fund are now open and will be reviewed on a case-by-case basis. The deadline for applicants is 5th October 2012.
More information about the Interoperability Toolkit is available on the NHS CFH website or email toolkit.enquiries@nhs.net.
Follow the ITK Sharing Challenge Fund on Twitter at @ITKISCF
To assist NHS organisations in applying for ISCF funding the ITK team will be running a number of one hour webinar sessions aimed at explaining the ISCF application process in more detail and how an NHS Trusts should go about completing an application. Dates can be found on the NHS CFH website.
More details on the Information Strategy ('The power of information') published 21st May 2012 can be found on the DH website.
Published 31 August 2012