News story
Press Release: New figures show government is winning war on red tape
Business Minister pledges tougher action to eliminate burdens on enterprise.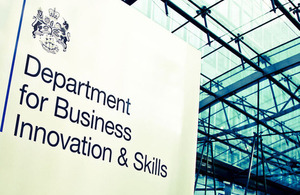 Business will benefit from nearly £1 billion in reduced red tape costs thanks to government action, independent figures revealed today.
The Fifth Statement of New Regulation reports that the overall closing balance for 'One-in, One-out', the government rule that dictates that every new cost on business must be balanced by an equivalent saving, is predicted to be around £836 million since January 2011. These figures are independently verified.
Additionally, the statement shows that the government expects to reduce the regulatory burden by around a further £83 million between January 2013 - when 'One-in, One-Out' is replaced by 'One-in, Two-out' - and June 2013. Expected measures include reforms to environmental regulation, employment law and consumer law.
Business Minister Michael Fallon said that Whitehall is increasingly putting the needs of businesses centre stage, but vowed to go further and faster to roll back barriers to growth.
Every department is predicting either a zero balance or being in credit at the start of One-in, Two-out, showing that the de-regulatory agenda is having an impact right across Whitehall.
The report shows that the overwhelming majority of government measures affecting business are deregulatory, with only ten new items imposing new costs on business compared with 89 that will save money or will impose a zero net cost. The costs from the 'ins' (£6 million) are also dwarfed by the savings from the 'outs' (£89 million), giving a predicted net saving to business of £83 million.
Recent deregulatory measures include:
changes to modernise and simplify the registration of company charges, saving £21.9 million
a series of changes to building regulations to reduce cost and complexity for industry
less heavy-handed Health and Safety regulations for low-risk businesses including shop and offices
improvements to speed up processes covering adoption and foster-carer eligibility
Business Minister Michael Fallon said:
The government has a very simple objective: to make the UK the best place in Europe to start, finance and grow a business. This requires a fundamental culture change in Whitehall, so that new regulation is only imposed as a last resort.
We've made a promising start, but firms still struggle with excessive red tape. We'll now push departments to go further to bear down on costs imposed on business, and we'll fight harder to get EU bureaucracy off the back of our entrepreneurs.
For the first time this Statement sets out EU measures that will be introduced during the reporting period, giving businesses time to prepare for these changes. Fifty-seven EU measures are expected to be implemented into UK legislation.
Notes to Editors
Every six months the government publishes a Statement of New Regulation listing of all the regulations it plans to introduce and remove in the next six months, and showing the net direct costs to business. The Fifth Statement of New Regulation is available here.
The 'One-in, One-out' rule was introduced on 1 September 2010 and applies to regulations introduced from January 2011. The rule prevents any government department introducing new regulation that will impose a direct net cost on business and voluntary organisations - unless the department can find savings by removing or modifying another regulation of an equivalent cost. 'One-in, Two-out' will also operate in this way, but the removal or modification must be of twice the equivalent cost.
Like 'One-in, One-out' , 'One-in, Two-Out' will not apply to EU legislation unless it has been converted into UK law in a way that goes beyond minimum EU requirements, putting UK businesses at a disadvantage. A number of other areas are exempt from the rule, including tax administration and civil emergencies regulation. More detail is available here.
When developing a new regulatory or deregulatory proposal, each Government department must carry out an impact assessment. This includes estimating the likely cost to business. To ensure estimates are credible, the impact assessment is considered by an independent body, the Regulatory Policy Committee (RPC).
The Red Tape Challenge is systematically examining some 6,500 substantive regulations that the Government inherited, with the aim of scrapping or significantly reducing as many of them as possible. It gives business and the public the chance to have their say, by theme, on the regulations that affect their everyday lives. The government announced on 10 September 2012 that at least 3,000 of the regulations examined will be scrapped or reduced. A second phase of the Red Tape Challenge will start in spring 2013. More information on the Red Tape Challenge is avaiable here.
Alongside the drive to remove superfluous regulation, government is working to ensure that necessary regulations on business are enforced more efficiently. Focus on Enforcement reviews are being carried out across a number of sectors where aspects of the enforcement regime may be imposing unnecessary burdens on business, making inefficient use of public sector resources or hampering economic growth. At Autumn Statement, the government also announced a number of measures to tackle systemic issues, including the lack of consistent fees and charges and appeals mechanisms. The Focus on Enforcement website is available here.
The government's economic policy objective is to achieve 'strong, sustainable and balanced growth that is more evenly shared across the country and between industries'. It set four ambitions in the 'Plan for Growth' (PDF 1.7MB), published at Budget 2011:

To create the most competitive tax system in the G20
To make the UK the best place in Europe to start, finance and grow a business
To encourage investment and exports as a route to a more balanced economy
To create a more educated workforce that is the most flexible in Europe.

Work is underway across government to achieve these ambitions, including progress on more than 250 measures as part of the Growth Review. Developing an Industrial Strategy gives new impetus to this work by providing businesses, investors and the public with more clarity about the long-term direction in which the government wants the economy to travel.
Published 17 December 2012