News story
New evidence strategy published
Part 2 of the MMO's Evidence Strategy is published focusing on engagement, partnership and knowledge exchange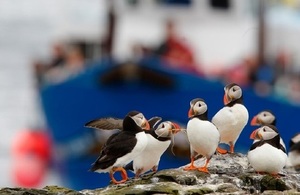 The Marine Management Organisation (MMO) has today (Thursday 11 August) published part 2 of its Evidence Strategy.
The Evidence Strategy sets out how the MMO will deliver its evidence requirements over the next five years, increasing access to high quality research and improving our understanding of our seas.
This final part of the strategy follows on from the publication of Part 1 in July 2015, and focuses on knowledge exchange, influencing and partnerships.
It sets out how the MMO will work with others to help shape the future of marine research, increase access to and awareness of existing evidence and support the Department of Environment, Food and Rural Affairs' (Defra) commitment to improve the quality and sustainability of our natural environment through research and data.
The strategy also introduces a new method for identifying areas for collaboration. To better promote these opportunities and encourage involvement across academic sectors, the MMO has introduced a series of Evidence Delivery Plans.
Each evidence requirement will have a tailored delivery plan, identifying specific research requirements, detailing how the evidence will be used, a proposed method for filling the gap and a summary of existing evidence and current activity.
Dr Adam Cook, Head of Evidence from the MMO said:
"We are delighted to have published Part 2 of our Evidence Strategy. It marks an important milestone in our commitment to improve our understanding of the marine environment through access to marine evidence.
"Our seas are vast and complex and there is much still to learn and understand about their delicate and balanced ecosystems. Access to high quality research and data is critical to this. It informs much of our work at the MMO, ensuring we continue to make informed decisions using the most up to date research to manage the increasing demands on the marine environment and its resources.
"We already work closely with a number of different organisations, and the strategy emphasises the importance of these relationships. Working collectively through partnerships and knowledge exchange, will maximise our resources to deliver the best solutions to common problems."
The Evidence Strategy is available now from gov.uk. In addition the first four new delivery plans have also been published to encourage joint working on areas of common interest:
Notes
The Evidence Strategy manages the Marine Management Organisation' evidence requirements, focusing on three main themes; describing the marine environment, interactions in the marine environment and integrated marine management
Part 1 of the Evidence Strategy was published in July 2015 and was developed to support the MMO's evidence requirements over the next five year as well as developments in the evidence base and Defra's revised Evidence Strategy
evidence and data is used across the MMO to inform decisions in licensing, fisheries management, conservation and marine planning
all of the published evidence reports are available from gov.uk here. Spatial data is also published on the Marine Information System
Published 11 August 2016
Last updated 11 August 2016
+ show all updates
image updated
First published.