Press release
New energy deal to save £84m from government bill
The Energy for Growth pilot will save money and create jobs by harnessing government's buying power.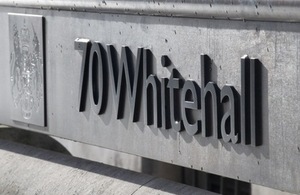 CAB 037-13
A new deal was agreed today that will significantly lower the cost government pays for energy and create hundreds of local jobs, the Minister for the Cabinet Office Francis Maude announced.
The new 20 year contract with Air Products, worth 2% of government's energy spend, is expected to deliver £84 million in savings over the life of the contract through an innovative fixed agreement that will provide stability in what the public sector pays for energy.
As part of the deal, Air Products expects to invest an amount similar to that of their first plant – £300 million – to build a new 'energy from waste' facility in Tees Valley, Teesside, bringing new jobs to the local area from the initial construction phase and beyond.
The new agreement means government – via the Government Procurement Service (GPS) – will buy a portion of its energy directly from a UK-based generator at a low fixed price via an innovative Power Purchase Agreement rather than buying entirely through short-term wholesale markets which are subject to unpredictable price fluctuations.
Francis Maude said:
This is the beginning of a pioneering approach to how government uses its collective buying power and long term demand to buy energy. Not only have we secured £84 million of savings for taxpayers by signing a new, low cost energy deal with Air Products, but we're also helping the UK compete in the global race by investing in growth and creating hundreds of new jobs through the construction of a new 'energy from waste' plant.

Our aspiration is to develop world-leading, exportable technology, and the new state-of-the-art site in Teesside will help the UK become a centre of renewable technology. This is about changing the way we work to not only get the best out of our suppliers, but the best out of the UK.
Lisa Jordan, Air Products' Business Manager for Bio-Energy Europe, said:
We are delighted that the Cabinet Office has agreed to purchase the power which we expect to produce at a new Tees Valley Renewable Energy facility, subject to planning and approval later this year.

By buying the electricity we produce, the Cabinet Office will help Air Products divert up to 350,000 tonnes of non-recyclable waste from landfill every year, which we will turn into reliable, controllable, renewable energy.
This deal only relates to 2% of government's total energy use – the new approach will now lead to government and GPS engaging with the energy industry to assess opportunities for further energy procurements over the next five years. This could mean a significant increase in generating capacity in the UK and help drive down bills for everyone through increased competition.
Notes to editors
As part of the deal, subject to planning and approval, Air Products will build a new advanced gasification energy from waste plant to provide the agreed energy demand (37MW) for the agreement in Tees Valley, Teesside. This is the second plant of this kind in the area – the first represented an investment of £300 million, and Air Products expects to invest a similar amount in this second project.
Air Products has longstanding expertise in building and operating large, complex industrial gas and energy plants ensuring its projects are delivered safely, reliably and cost-effectively.
Advanced gasification is a more efficient energy-from-waste process than incineration and has a lower overall environmental impact. Raw waste is collected from local businesses and then converted into a clean fuel gas which is then used to generate valuable electricity.
For media queries regarding Air Products, please contact Rob Jeffery on 020 3047 2465 or 07966 151 753.
Published 10 April 2013